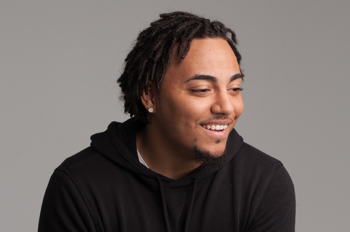 By Michael Ashcraft —
His father was a drug dealer, his mom an alcoholic, and his sister a stripper. So Steven Malcolm started life with a few strikes against him.
He grew up in Kalamazoo, Michigan, and then Tampa, Florida. Malcolm's dad got busted for dealing drugs and was deported to Jamaica. Mom, who struggled with drinking, moved back to Grand Rapids, Michigan, when he was in the fifth grade. His sister drifted into a life of easy money based on her looks.
"I raised myself. I call it the school of hard knocks," he says in his video "Watch."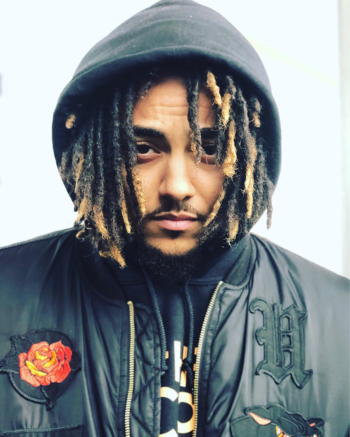 His two main passions growing up were basketball and chasing girls. He memorized Snoop Dog lyrics and slid by with a 1.7 GPA in high school.
Malcolm wanted to play on the local community college's basketball team, but the steady stream of partying interfered with his studies and he didn't earn good enough grades to get on the court. In his first year at college, his mom moved away and he felt like an orphan, abandoned and adrift.
"Going into my freshman year of college, stuff just really hit the fan and life really smacked me across the face," Steven says on his website. "My family was going through hard times and then I started having an identity crisis where I was looking at life and wondering 'what am I here for?' My grades were horrible that year, so I couldn't play ball. My best friend and I fell out and my mom ended up moving, so I was really lost."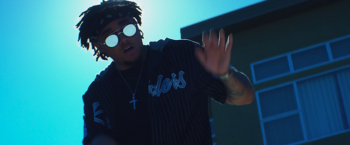 Then a high school basketball buddy invited him to church. Steven had never ventured into a sanctuary of Christian worship, and the prospect put him off. But he felt so abandoned, and his friend said he would find The Edge Urban Fellowship relevant.
"I'd never stepped foot in a church before. Now I'm thinking I'm going to have to pick up my pants, it's going to be boring and nobody's going to speak my language, but then he told me it was a hip-hop church, and since I had nothing to do that night, I thought 'okay, sure, why not?'" Steven says. "And it was like a breath of fresh air that just smacked me in the face."
He accepted Jesus into his heart as Savior and Lord in 2010.
He started attending faithfully, studying his Bible and opening himself to accountability discipleship. After a year of getting grounded in the Word, Steven was invited to participate on the worship team, which did hip hop in church.
His talent stood out.
Since other worship team members had their CDs, it was suggested to Steven he record some of his own work. He participated in and won local contests. He started to gain a following in the Michigan rap scene with his self-produced "Monsters Ink."
Eventually, he caught the eye of Joseph Prielozny, who after working at Reach Records had moved on to the position of A&R at Word Entertainment. Prielozny believed that Steven could be the label's first venture into the hip hop genre.
"They flew me out to Nashville. I met everybody out there at Word, prayed about it, and I felt it was a good fit, they thought I was a good fit," says Steven on Jam the Hype. "And we made it happen."
In 2016, was honored on Rapzilla's list of freshmen rappers. His eponymous first album with Word featuring Andy Mineo and Hollyn in 2017 was a sensation. He earned three Dove Award nominations that year.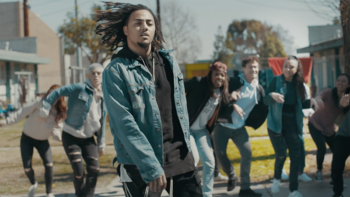 Since then, he has released two EPs entitled The Second City, parts 1 & 2. With every release, there are more hits to light up streaming services. "Even Louder" has choral strains from Africa, while "Fuego" shows his mastery of Latin music and "Rodeo" is reggae current. He has a fun, fun, nothing but fun song about cereal (yeah, he really likes to eat cereal with 2% milk) that he absolutely kills (call him the Cereal Killer).
The junior rapper set himself apart by meeting a dizzying set of demands: singing and rapping in Spanish and utilizing a plethora musical genres as background for his rhymes.
He also does what virtually no other Christian hip hop artist can: he busts Michael Jackson dance moves.
His stats are soaring and finances are flowing, but Steven is aiming mostly for souls.
"I want to be somebody like, 'Dude, I gave my life to Christ because I heard a Steven Malcolm track and he's the first Christian rapper I ever heard,'" he says.
Michael Ashcraft teaches journalism at the Lighthouse Christian Academy in Los Angeles.
Read about other Christian hip hop artists by clicking: 1K Phew –  Aaron Cole — Ada Betsabé – Andy Mineo – Benjamin Broadway — Bizzle – Canon – Cass – Datin – Flame – Gawvi – HeeSun Lee – Jackie Hill-Perry – Jarry Manna — JGivens – Joey Vantes — John Givez – KB – Lecrae – Lil T Tyler Brasel– MC Jin – NF – nobigdyl. – Propaganda – Ray Emmanuel – Ruslan – Sevin –  S.O. — Social Club Misfits – Steven Malcolm – Tedashii – Tobe Nwigwe – Trip Lee – Wande Isola – WhatUpRG — YB
And secular rappers who have come to Christ (at least to some degree): Chance the Rapper – Kanye West – Kendrick Lamar – No Malice — Snoop Dogg
And an overview article about the state of affairs in CHH: Christian Hip Hop in Controversy.