By Michael Ashcraft —
Rapper Datin always encouraged kids coming out of the death and jail traps of drugs and violence foisted upon unsuspecting kids by secular hip hop artists.
Now he has a new people group to encourage: those coming out of a divorce.
In his September 2018 video "Hell in the Hallway," Datin says his own ongoing divorce has him living in a dark and lonely hallway. He can see the light at the end of the tunnel (hallway). But until he gets there, he's out of the room of marriage and left in a gloomy limbo.
When his marriage foundered, Datin submitted to pastoral guidance and sought counseling but his wife didn't want to participate, he noted on Facebook. (Her version could not be found online; she deleted her Instagram pictures with him).
Because Florida law allows divorce on the basis of only one of the parties, Datin — whose real name is Edward Berrios — found himself hapless and resigned to the heart-wrenching conclusion of a happy chapter in his life.
In all cases of marriage, Christians should seek reconciliation. But if one party is unwilling to try, your life is not over, Datin says. God has a destiny for you beyond your present tragedy.
"When God closes one door, he opens another," Datin says. "But right now I'm in the middle. It's hell in a hallway."
Datin is the raspy-voiced rapper who delivers hammer blows. His mad dog face, he says, is not an imitation of violence-peddling secular rappers. It's because he's upset by their lies and deception that have been misleading America's youth.
Like his label boss Bizzle, he constantly calls out secular artists, whom he blames for inducing tens of thousands of young men into trafficking and violence. These artists profiteer from their recipe for death. They entice kids by flaunting a flamboyant lifestyle of riches and women.
"Their songs are like cyanide; the more we listen to 'em, the more our souls die inside," he raps on "Pull the Plug." "This is for the deejay killing us with the poison he plays. Let's pull the plug on 'em."
Datin grew up in Newark, New Jersey, not on ritzy Jersey shore but on the backside ghetto. He has every right to aim at hip hop artists for their false narrative because he himself fell for their lies. He and his friends sold drugs, treated women poorly and acted like thugs.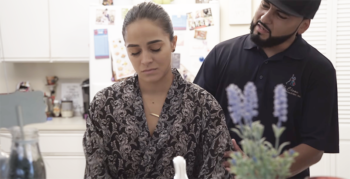 As a result of adopting the gang lifestyle, one friend was killed and another jailed, he says in his songs.
But while he was sinning, the Holy Spirit was afoot in his life. He first turned on to Christ when he watched Mel Gibson's 2004 "The Passion of Christ."
But since hip hop was his priority, he kept his nascent faith low key and compromised his walk with sinful stumblings.
When he graduated high school, Datin gained renown in the battle rap world and was expected to sign for a big name label. To the surprise of many, he declined signing with Eminem's Shady Records and Ja Rule and Swiss Beatz, according to Christian Post. His neighborhood pal signed and drove up in a Jaguar to invite him to also sign, he says.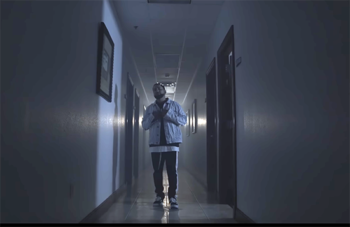 "It was such a struggle to say no," Datin told Rapzilla. "It took every bit of my being. My whole life was based around my music, my hopes and my dreams. To say no was like chopping off my arm."
In 2007, he got fully saved and extricated from the ensnaring world of hip hop. He laid down the microphone first, grew in God, and then years later picked the mic back up only to outreach, he says on a radio interview DJ Tony Tone.
He dropped projects in 2010 and 2012. In 2014, he finally signed — for the Christian label God Over Money. This was a natural move because the label is known for never soft-peddling the gospel — or from shirking controversy. For Datin — who preaches hellfire and brimstone for rappers who sell their fellow people of color down the river — it was an ideal fit.
His much-anticipated first studio album Roar charted 18th for rap on Billboard and hit the top 10 on iTunes.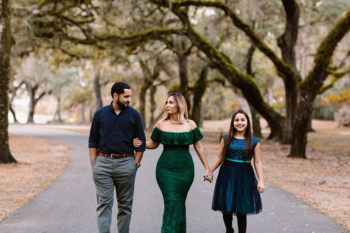 With such a sterling testimony, Datin's sudden announcement in April of his pending divorce was as startling as it was saddening.
"I have fought for my marriage to the very end," Datin says. "I'm scandal free. There's no issue of adultery or abandonment or abuse. I have seeked (sic) counseling. I have put effort in. But the effort was not reciprocate. So therefore, this is the unfortunate outcome."
Christian rap offers a stark contrast with secular rap because marriage is idealized and honored. Datin in November 2017 rapped "Fight For Us," his pledge to work for his marriage.
"I'm submitted. I'm committed. He's my witness. Before the Lord I stand, Ima give it all I can," he says. "Baby, Ima fight for us."
And in "Final Goodbye" in February 2016, he preaches there's no goodbye in marriage because marital love is for "death till us part." "Will I ever say a final goodbye? No. I'm never leaving you," Datin raps.
At the time, nobody suspected Datin's marital dream was turning into a private nightmare.
Even the best of Christian marriages suffer fights and misunderstandings. Datin insists on Wade-O Radio that he prioritized his marriage while touring, paying the extra money to fly home and be with his wife. After six years of marriage, his wife filed for divorce, according to "Hell in the Hallway."
"I thought she was my bride till die on this journey, but I was wrong," he raps. "She looked me in the eye and sternly told me she wants a divorce. It felt like a knife was inserting into my heart. I was tossed aside like I wasn't worthy.
"My love for her was like an all-consuming fire. I guess my efforts fell short because the tide had been turning… It's time for me to get this tat removed from my wrist."
One of the characteristics of hip hop is an excess of sincerity, but even by those standards it's bewildering that Datin confesses to battling with depression and the temptation to fall into alcohol or drugs.
"My flesh is screaming, 'Let the self-medication begin,' but I can't because I know what waits in the end: an addiction that'd keep me in the state that I'm in," he raps. "So I fight. My knees are calloused from my time in prayer. I'm asking God to deliver me from my despair."
Datin has found his answer — though he still struggles — in the Bible.
"It may be hell in the hallway, but I see light at the end, and I'm making my way towards it," Datin says. "I can do all things in His strength."
Michael Ashcraft pastors the Van Nuys Lighthouse Church, the so-called "Church on the Lake" because it meets at Lake Balboa in the San Fernando Valley.
Read about other Christian hip hop artists by clicking: 1K Phew –  Aaron Cole — Ada Betsabé – Andy Mineo – Benjamin Broadway — Bizzle – Canon – Cass – Datin – Flame – Gawvi – HeeSun Lee – Jackie Hill-Perry – Jarry Manna — JGivens – Joey Vantes — John Givez – KB – Lecrae – Lil T Tyler Brasel– MC Jin – NF – nobigdyl. – Propaganda – Ray Emmanuel – Ruslan – Sevin – S.O. —  Social Club Misfits – Steven Malcolm – Tedashii – Tobe Nwigwe – Trip Lee – Wande Isola – WhatUpRG — YB
And secular rappers who have come to Christ (at least to some degree): Chance the Rapper — Kanye West – Kendrick Lamar – No Malice — Snoop Dogg
And an overview article about the state of affairs in CHH: Christian Hip Hop in Controversy.