By Michael Ashcraft —
Propaganda always felt like he didn't belong.
Born in south Los Angeles, the Christian hip hop sensation was raised in the West Covina area where Latinos were predominant and violence prevailed. He couldn't join the gang because of his color.
"I was the one black kid, being teased because of my color, getting chased home, getting banged on when we're walking home: 'Where you from man?'" he says on an I am Second video. "I'd recognize (the) homie. And I'd say, 'Paco, what are you talking about? I live two streets from you.'"
Then Propaganda, whose real name is Jason Petty, moved to the suburbs, where he felt like the poor kid among so many Caucasians.
"We were these weird black people that spoke Spanish," he says. "They didn't get us."
His dad had been a Black Panther in the 60s, energized by fighting police brutality. Mom and Dad eventually got divorced.
Propaganda began attending church. Of all the kids, he felt God the most intensely.
"I was getting convicted," he says. "I felt like God had split the roof open and was talking to me directly.
Moved by the power of the Word and the Spirit, he was born again.
He was disappointed when his friends didn't get it. "The guys at my age, I remember them not being affected at all. It tripped me out because I felt like nobody else felt like that. But in my mind, it went back to just the same way I grew up: I've been 'the only' my whole life. So if I've been 'the only' there, I'll be 'the only' here."
He never missed church, and mom forced him to take notes on the sermons. She wanted to make sure he was listening. People saw his sensitivity to God and predicted he'd be a pastor.
But he wondered about where he would fit in best — with the church boys, the college-bound students, or the tagging street thugs. What he really liked was not the typical man things; he liked art.
From the sixth grade until his junior year in high school, Propaganda examined his life and tried to figure it out.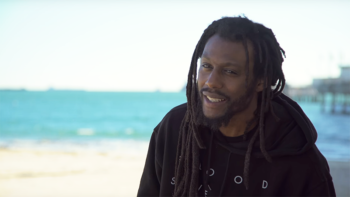 "I always felt like I don't belong," he says. "Whether I was born the wrong color, in the wrong neighborhood, in the wrong decade, to the wrong parents. I was not an alpha male. I was an artist. I would draw all the time. I wrote poetry."
Finally, his father tipped him off to Jeremiah 1:9 "Before I formed you in the womb I knew you," and to Psalm 139:14 "I am fearfully and wonderfully made." These verses helped Propaganda to accept himself as exceptional and different from everybody else, a unique gift from God to the world.
"It was there that I finally realized my value is not determined by some innate, particular quality that I have," he says. "No, your value is because God was willing to pay the cost of his Son for you."
When he graduated with a college degree in art and intercultural studies, Propaganda started teaching art theory. Christian hip hop was just a hobby, a passion, a chance to express his faith and politics in spoken word poetry on stage.
By day, he taught classes. At night, he won battle raps against the 5 percenters, and the Muslims.
He met and married Alma Zaragoza, the daughter of Mexican immigrants who struggled through school and college to get her PhD in educational policy. She is now a professor of education at Chapman University in the City of Orange, CA. The couple has two daughters.
Since 2017, he and his wife do "The Red Couch Podcast."
Propaganda's hobby of hip hop began taking more and more time and found more and more success. Eventually, he signed a record deal with Humble Beast label and started working full time in music. Of his six albums, Excellent in 2012 charted #7 on Billboard's Top Gospel category.
He now understands how the diverse experiences of his childhood, his atypical inclinations that left him feeling alienated, were all part of God's plan to bring him into musical ministry
"Everything you are, your whole goulash of experiences and gifts, all the scars, every hurt, every failure, being spit on walking home, all this, it's on purpose," he says. "God made me exactly as He wanted me to be. I was a nobody with poverty in my bones. But it was beautiful."
Michael Ashcraft teaches journalism at the Lighthouse Christian Academy in Los Angeles.
Read about other Christian hip hop artists by clicking: 1K Phew –  Aaron Cole — Ada Betsabé – Andy Mineo – Benjamin Broadway — Bizzle – Canon – Cass – Datin – Flame – Gawvi – HeeSun Lee – Jackie Hill-Perry – Jarry Manna — JGivens – Joey Vantes — John Givez – KB – Lecrae – Lil T Tyler Brasel– MC Jin – NF – nobigdyl. – Propaganda – Ray Emmanuel – Ruslan – Sevin –  S.O. — Social Club Misfits – Steven Malcolm – Tedashii – Tobe Nwigwe – Trip Lee – Wande Isola – WhatUpRG — YB
And secular rappers who have come to Christ (at least to some degree): Chance the Rapper — Kanye West – Kendrick Lamar — No Malice – Snoop Dogg
And an overview article about the state of affairs in CHH: Christian Hip Hop in Controversy.