By Mark Ellis –
He is the only American athlete to appear in a Super Bowl and a World Series in the same season. His stellar performances during 14 seasons in the NFL and nine years in Major League Baseball led to lucrative endorsements and an enviable lifestyle.
Yet at the height of his achievements, he was ready to end his life, as told in his autobiography, Power, Money & Sex: How Success Almost Ruined My Life, written with J.M. Black.
Only minutes after buying a $275,000 Lamborghini Sanders recognized a growing emptiness inside. His marriage to his first wife, Carolyn Chambers, was on the rocks and she was suing him for divorce.
Filled with hopelessness and despair, he updated his will in longhand as he contemplated suicide.
"I was going through the trials and tribulations of life. I was pretty much running on fumes," he wrote.
Even though he was raised in a Christian home, he didn't maintain a personal relationship with God. "I was empty, no peace, no joy. Losing hope with the progression of everything."
One day he stood on a highway overpass with thoughts of jumping into the midst of traffic. Fortunately, he came to his senses and didn't jump, recognizing the trauma his actions would cause for other drivers.
But shortly after this, he reached a point of pronounced desperation and drove his black Mercedes over a 40-foot cliff. Incredibly, he survived the drop without any serious injuries. His guardian angels may have been working overtime that day.
At the bottom of the valley of the shadow of death, he cried out to God.
"I finally just got on my knees and gave it all to the Lord," Sanders wrote.
He surrendered his life to Jesus Christ and began to immerse himself in Bible reading.
"Slowly, but surely, I had to deal with my faith, deal with my strength," Sanders noted. "I had to get a lot of Word in so that I could fight off the enemy. I wouldn't be where I am today without my faith. People argue about what faith is, and who Jesus is, but it works for me. I'm not going to sit here and argue about who is what, and what is what, I'm just going to say it works for me."
Bishop T.D. Jakes became an important mentor during this period of his life.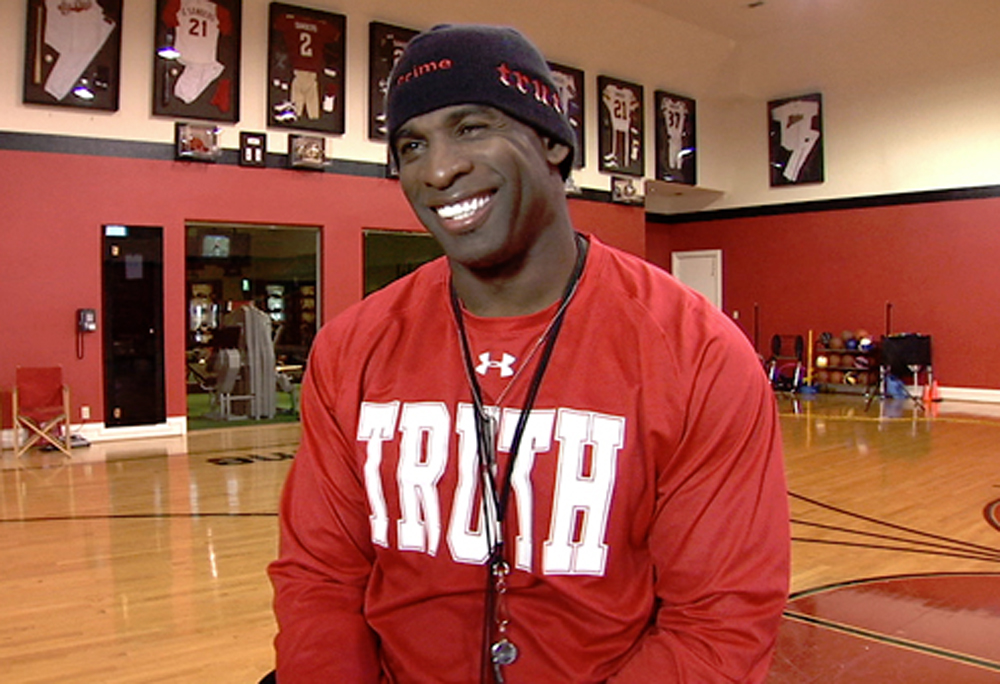 "No one had told me that life would be tough going from one team to another one," Sanders wrote. "Going from the enemy's team, being one of his soldiers, to God's team. That's a tremendous turnaround."
Today, he ministers to others and shares his personal testimony, although he won't call it a ministry.
"What people call 'in the ministry,' I call it 'in my will.' I'm in God's will," he said. "I don't really get down with a lot of titles, this and that. I believe I'm just in God's will. If he called me to minister to a group, or setting, or whatever, that's what it is. That's what I'm gonna do. I don't really desire a title to go and do what I've been called to do. I think it's only right to go."
"I don't believe you can be at your optimum without your faith," Sanders noted. "Sports is sports, it's a game. My faith is everything. It's the gas that propels the courage, the truth, keeps me going. It's the wind, it's the wings, it's the air that pumps into my lungs, that provokes me to live. Faith is everything."
If you want to know more about a personal relationship with God, go here