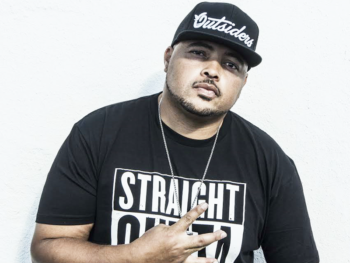 By Michael Ashcraft —
When he finally turned his back on the gold chains, the flashy rims and the swanky garb; when he finally turned his back on trafficking and pimping to make money to produce a rap album; when he chose Jesus, God came through for Bizzle in a big way.
With no resources other than the Bible in his hand and Jesus in his heart, Bizzle was given engineers, studio time and producers free of charge to whip out his first album — a Christian mixtape.
"You feel like you have to play by Satan's rules in order to get where you want," says Bizzle, whose real name is Mark Julian Felder. "All the stuff I felt that we had to go and cut corners and scheme to get money to pay for, the Lord brought these things without me having to spend a dime. He just sent them my way."
Today, Bizzle, 35, has 12 Christian albums and mixtapes and his own recording label, which is called — what else? — God Over Money. His current Light Work EP cracked iTunes top 10. His material is both a compliment and counterpoint to Christian hip-hop legend Lecrae.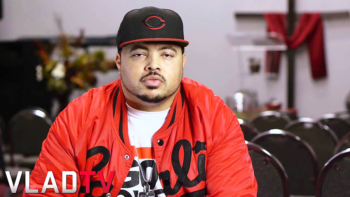 Bizzle was raised in Cudahy, a small neighborhood of Los Angeles, by his mother and grandmother, who dragged him to church. He never felt poor because Mom managed their Section 8 with wisdom. His dad lived in nearby Compton, a famous exporter of rap artists.
Bizzle had verses in his veins from early childhood. His idol was Tupac, and he became enamored with the vaunted thug life of pistols, revenge and crime. When he graduated from high school, he hawked mixtapes with worldly themes, bragging about gangster living he never did.
Then under the rap moniker "Lavyss," he started to catch the eye of rap power brokers and opened shows for Lil Wayne, Juelz Santana and Lil Boosie, but he was sleeping at friends' places or in his car. He borrowed finery and gold chains to look the part on stage. He got friends to drive him up in their ritzy "whips" when he arrived at concerts. He produced some mixtapes that showed promise.
But he wasn't making money. So he decided he needed to turn to practicing what he preached (crime) to speed up the money-making. He began selling marijuana and pills. A prostitute who liked his music offered to help and started passing him earnings. That's how he became a pimp.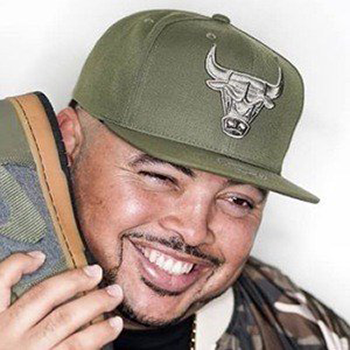 It turns out the prostitute was a backslidden pastor's daughter. Her brother played the drums in worship. Bizzle began to attend services. At first he wasn't convicted at all about his own evil.
"It's like you go to the beach and you get out in the water and you don't notice how far you're getting way out there in the deep," Bizzle says on his testimony video. "It wasn't until I looked at Christ and saw how righteous He was that I realized how filthy I was.
"I never in a million years" would pimp, Bizzle says now. "Especially since I was raised by my mother and my grandmother, I always had respect for women. But since that was funding my dream at the moment, I gave it a pass. That was the furthest I got from God and it caused me to get the closest to God."
Bizzle and a friend went to Las Vegas to hustle money with the prostitute. Bizzle had the habit of stowing her profits in his Bible. But he also read the Bible, and it intrigued him. One day his buddy came out of the shower and caught him reading his Bible.
"So what you gonna be a gospel rapper now?" his buddy mocked.
"You know what? I might," Bizzle responded. "One day the Lord just had to put that conviction on my heart."
After four years of rapping dirty lyrics and doing dirty deeds, Bizzle decided to switch to the Lord's side in 2008. He surrendered his life to Jesus Christ and was born-again!
He had no funds but he was determined to serve the Lord instead of Satan. He took two years off, got married to his love in Houston and worked at Wal-Mart. Then he staged his return to rap, now for CHH.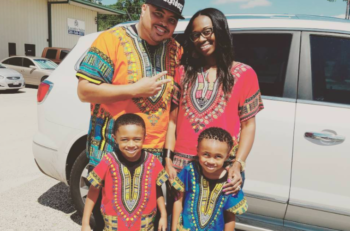 It would be fair to say that Bizzle exploded onto the Christian hip hop scene with his 2010 song "You Got Some Explaining To Do" in which he called out Jay-Z and Beyoncé for their anti-Christian themes and lifestyles. Jay-Z and similar rappers were his childhood idols that led him down the wrong path. Now he was calling them to account.
Being brutally honest and criticizing a rival is regular fare for the hip hop genre, so not even Bizzle — still pretty much an unknown in rap world — could have imagined the controversy he generated. He had demanded Jay-Z explain what he was doing, but Bizzle found himself compelled to explain his diss.
It wasn't necessarily a publicity stunt, but it worked well. Suddenly industry engineers came out of the woodwork and offered their services for free. Boi 1da (Matthew Jehu Samuels) — who produced Drake, Rihanna, Eminem, Jay-Z, Nicki Minaj and Kendrick Lamar — called him and, saying he was a Christian, offered to produce him for free.
"When I decided to do rap for the Lord, I had no resources. I didn't have any money for studio time. I didn't have anybody to mix the records," he says. Then "people started coming out of the blue."
He founded God Over Money recording studio in Houston, where his wife was from, in 2010. His first Christian mixtape, The Messenger, was downloaded 50,000 times. Two years later, his studio album Best of Both Worlds hit No. 5 on the iTunes hip hop/rap chart.
In 2014, Bizzle again courted controversy when — fed up with the media's hype over Mackemore's pro-gay rap "Same Love" — he used the same melody to stand up for the what the Bible says.
You rather fight God than fight sin
The Bible is alright until it calls what you like sin
And I feel so disrespected that you were so desperate
You would compare your sexual habits to my skin
Calling it 'the new black?' Tell me, where they do that?
They hung us like tree ornaments, where were you at?
Gay media went into frenzy mode. The leftist Huffington Post called his song "very disturbing." Bizzle reportedly received death threats.
Brandishing love, he was branded a hater. Clarifying that he's not a hater is a major theme in his music.
Homie you can hate me but you ain't gettin no hate back
Cause all the hatin in the world won't make me a hater, he sings in the pushback song "No Hate" from his album Surrender.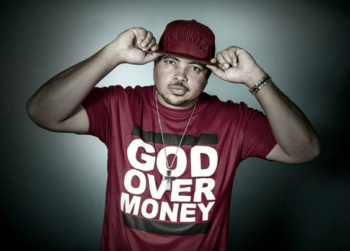 What's missed a lot about Bizzle is that he doesn't only blast others. He trains his guns on himself. In his music, he deals with frightening frankness with his own early and ongoing struggles with pornography. He voices insecurities about gaining weight and shares his intimate marital strife. He talks about very nearly getting seduced by another woman.
Bizzle is a counterbalance to Lecrae. The Atlanta-based artist, who pioneered Christian rap, leans to the left with political pronouncements. He (legitimately) calls on the white community to fight racism in the police force. For his politics, he drew so much ire from right-leaning Christians that he decided to "divorce himself" from "white evangelicalism" in 2017.
Bizzle takes a different tack to the problems facing his community. He blasts the African-American rappers for selling out and "poisoning the hood" with false promises of riches in crime while the majority of their fans wind up in jail or die. In "Just Saying," he spits:
They say the government gave us guns, liquor, and crack
But, last time I checked, yo' dealer was black
And yo' killa was black
There's no bad blood between the king of Christian rap and Bizzle. They collaborated on a remix on "You Know" in 2014 and continue to support each other.
Bizzle is gunning for change in the 'hood, and his enemies are the hip hop artists who are preaching the message that is corrupting the youth.
"It's a war out here for the minds of the youth," he told Billboard. "Nowadays it's all about sex, drugs, murder, sex, drugs, murder. I wanna change that up."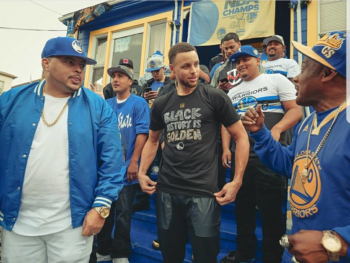 Somehow, Bizzle found out that Steph Curry played his music in the Warrior's locker room. One thing led to another, and after the two linked up, Bizzle was tapped to write a new anthem for the NBA champs in April of this year.
Bizzle has also raised money for water projects in Mozambique, Africa.
Before he turned to Jesus, he worked so hard to get money that he slipped into illegitimate means. Then he renounced his sinful ways, and God showed him the true path to happiness.
"I thought having that glamorous life would make me happy, but the Lord and seeking a good relationship with Him, that is what fulfills me."
If you want to know more about a personal relationship with God, go here
Michael Ashcraft teaches journalism at the Lighthouse Christian Academy in Los Angeles.
Read about other Christian hip hop artists by clicking: 1K Phew –  Aaron Cole — Ada Betsabé – Andy Mineo – Benjamin Broadway — Bizzle – Canon – Cass – Datin – Flame – Gawvi – HeeSun Lee – Jackie Hill-Perry – Jarry Manna — JGivens – Joey Vantes — John Givez – KB – Lecrae – Lil T Tyler Brasel– MC Jin – NF – nobigdyl. – Propaganda – Ray Emmanuel – Ruslan – Sevin – S.O. — Social Club Misfits – Steven Malcolm – Tedashii – Tobe Nwigwe – Trip Lee – Wande Isola – WhatUpRG — YB
And secular rappers who have come to Christ (at least to some degree): Chance the Rapper – Kanye West — Kendrick Lamar – No Malice — Snoop Dogg
And an overview article about the state of affairs in CHH: Christian Hip Hop in Controversy.