By Michael Ashcraft —
For Christmas this year, hip hop artist 1K Phew can thank God not only for the gift of eternal life, but just plain life.
That's because he narrowly survived being shot to death. It was the turning point in his life that caused him to reexamine what matters most.
1K Phew, whose real name is Isaac Gordon, was raised a Christian but started getting into trouble in his teen years.
"What really got me in a real-deal relationship with Christ was when I got in a real bad situation where I got shot at," he says on video for Jam the Hype.
"I was fortunate enough not to get shot. Once that situation happened, I knew right then and there that if I kept doing the things I was doing, I was going to end either dead or in jail. So I had to make a decision right then and there as to what I wanted to do."
He surrendered his life to Jesus and was born again.
He says Christmas has always been special time of year for him and his family.
"When I was in school, I was getting in all kinds of trouble. I got through all the whuppings. When Christmas came, there was a certain spirit that came in the house," he says. "Christmas was the time of year we all did things together. We all came together as a family. No matter what happened throughout the year, getting ready for Christmas was so powerful to let us know that we could still have joy, no matter what we went through
Recently, 1K Phew released a Christmas carol album along with all the team at Reach Records.
Yes, you read that right. Christmas carols a la hip hop. In a world where fusion food marries irreconcilably different styles to tantalize the palette, why would this seem strange?
Even Reach Record's Senior Director of A&R couldn't envision such a union. "Honestly, I wasn't sold on Christmas and hip hop," says Lasanna "Ace" Harris on a Youtube video. "I thought Christmas and hip hop don't go together.
"The only way this could work if you take classic Christmas songs and re-imagine them. We wanted to dial back on trendy sonics and put more nostalgic, lo-fi sound with warm textures. We pulled back to the classic vibe of hip hop because I felt this album was going to be something timeless."
There's plenty of "re-imagining" of such immortal classics as "O Come All Ye Faithful" and "Silent Night." The 116 Clique does much more than just repeat lyrics to new music, as so many artists have done before (making country carols or Hawaiian ukulele).
"The Gift: A Christmas Compilation" represents a significant advancement in the subject matter of caroling.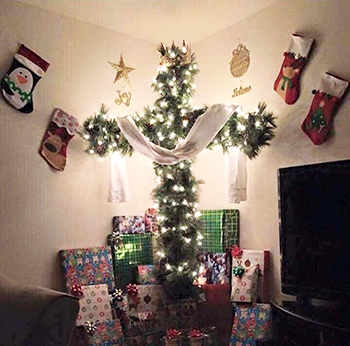 Lecrae and crew actually enter new terrain with new lyrical concepts, and the vintage carols are reduced to a motif in their rendition. The result is refreshing and original, a mixture of pop music, rhythm and blues, gospel and rap. But unlike most "new" Christmas music, Jesus shines through like the old.
"I feel like Christmas music needed a makeover," says Ace. "The mainstream rapper would fumble Christmas because either they would make it cheesy or it wouldn't come out authentic. We're authentic Christians. If there was anybody who had the gift to do Christmas, it was us."
Christian hip hop pioneer Tedashii called it "uplifting and amazing."
In addition to the above mentioned, the album features Trip Lee, WhatupRG, Gawvi and, of course, Lecrae. In addition to the 116 Clique, there are lots of features, including nobigdyl, CASS, Jon Keith, Crystal Nicole and Abe Parker. (Yes, there is some nice singing on the album.)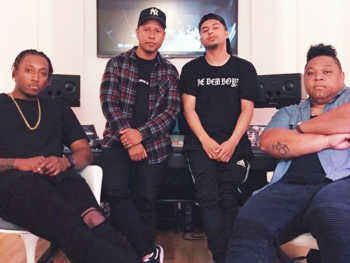 Here are some lyrical gems from the album:
Sometimes the people on your family tree is the best gift you could ever receive.
I'm not worried about no present if you are present.
How do you mend a broken world? Give it a gift it could never earn.
"Our goal is to impact culture," says Marcus Hollinger, vice president of marketing for Reach. "It was a challenge to do. It was cool to defy the expectations and do something meaningful."
Says Albert Tacos in the YouTube comment sections about "We Three Kings" from the album: "Really I'd rather go to Heaven and listen to this song for…
If you want to know more about a personal relationship with God, go here
Michael Ashcraft teaches journalism at the Lighthouse Christian Academy in Los Angeles.
Read about other Christian hip hop artists by clicking: 1K Phew –  Aaron Cole — Ada Betsabé –Andy Mineo – Benjamin Broadway — Bizzle – Canon – Cass – Datin – Flame – Gawvi – HeeSun Lee – Jackie Hill-Perry – Jarry Manna — JGivens – Joey Vantes — John Givez – KB – Lecrae – Lil T Tyler Brasel – MC Jin – NF – nobigdyl. – Propaganda – Ray Emmanuel – Ruslan – Sevin – S.O. — Social Club Misfits – Steven Malcolm – Tedashii – Tobe Nwigwe – Trip Lee – Wande Isola – WhatUpRG — YB
And secular rappers who have come to Christ (at least to some degree): Chance the Rapper – Kendrick Lamar – No Malice — Snoop Dogg — Kanye West
And an overview article about the state of affairs in CHH: Christian Hip Hop in Controversy.