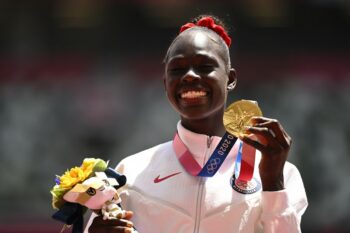 By Michael Ashcraft —
Athing Mu was just fooling around with her older brother, who was part of the Trenton Track Club. She was running — outrunning the bigger kids — when the coach saw her and confronted her later when she was seated on the bleachers.
"Who is this girl? I want her on my team," the coach said.
That was the start of an incredibly "God-gifted" girl who just won the first gold medal for the U.S. in the women's 800 meters in 53 years. The 19-year-old freshman records-breaker from Texas A&M charged to the front of the pack from the very beginning and stayed there almost unchallenged, graceful and calm, with a powerful pace throughout.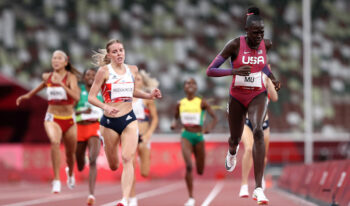 Athing Mu (pronounced Uh-THING Moe), now 19, is lucky to be in America. Her parents fled South Sudan and made their residence in Trenton, New Jersey. She's the second youngest of seven siblings. She got involved in track and also discovered what it means to run with Jesus.
"As a follower of Christ, our main goal is to live in the image of Jesus in order to connect to God and 'get to' God," the 5'10" runner says on The Battalion. "I believe when God is ready to give you blessings, He gives it to you with all intentions. In this case, 'keeping one at the top, never at the bottom.'"
She's referring to Deut. 28:13: The Lord will make you the head, not the tail. If you pay attention to the commands of the Lord your God that I give you this day and carefully follow them, you will always be at the top, never at the bottom.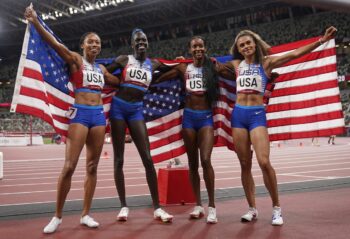 Everywhere she's run, Athing has broken records. She set the world under-20 record in the women's indoor 800 meters earlier this year hitting 1:58.40 on the clock. She also set the world under-20 best in the indoor 600 meters in 2019 when she was 16 years old.
Athing won a second gold medal by participating in the 400 meter relay with Dalilah Muhammad, Sydney McLaughlin and Allyson Felix. Felix became the winningest lady runner in the U.S. with 11 Olympic medals.
Fellow Texas A&M runner, Jean Jenkins, a senior, has only good things to say about her freshman teammate: "She has God-given talent. I think it's really incredible because when you get to know her, she's so much more than just a runner. She's such a beautiful and pure soul. She's always full of joy. She really has a heart for God. I think that's very honorable about her."
Athing wants to own a farm when she gets older.
If you want to know more about a personal relationship with God, go here
Read also about fellow Christian track star Allyson Felix, Quanesha Burks, Morolake Akinosun, Gabby Thomas and Sydney McLaughlin.
Reporter Michael Ashcraft is a pastor and a financial professional based in Los Angeles.