By Michael Ashcraft —
There were plenty of things to blow Sydney McLaughlin's concentration. The 400-meter hurdler was under strain from the months of preparation. There were bad practices, three false starts, and a meet delay.
Glaringly, right in front of her was her chief rival, the woman who beat her last time, Delilah Muhammad. Sydney figured she'd have to catch Delilah, whose explosive start out of the blocks was unbeatable.
But in the midst of her doubts and distractions, Jesus spoke to her heart: Just focus on Me.
Not only did Sydney beat her rival in the Olympic qualifiers a month ago, she set a new world record, breaking the 52 second barrier that no woman has ever bested in the 400 meter hurdles.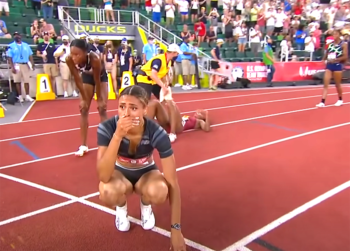 "The Lord took the weight off my shoulders," she wrote later on Instagram. "It was the best race plan I could have ever assembled."
The 21-year-old from New Jersey took the gold in Tokyo, beating her own record with a time of 51.46 seconds. She's been called the new "face of track."
It all began with a chocolate bar.
For her first race as a little tyke, her parents promised her a chocolate bar if she won. Her mom was a high school track star, and her dad was a semi-finalist in 400 meters for the 1984 Olympic Trials. Running, she says, "runs" in the family.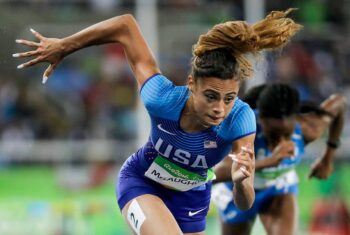 She started at age six, following in the footsteps of her older brother and older sister, who ran track.
Her first track meet was two towns away, and that's when she got promised the chocolate bar. She won and enjoyed her candy.
"When I was finished, I was so exhausted. I was like, I don't want to do this anymore," she says on a FloTrack video. "But then it was a feeling of knowing that I made them proud by doing it and accomplished something and got rewarded for it at the same time, it was a great feeling for me. So, it's something I stuck with."
At Union Catholic Regional High School in Scotch Plains, New Jersey, she was the star of the program, setting youth records in national and international competitions. At the University of Kentucky, she set the collegiate and NCAA record in the 400 meter hurdles, running 52.75 to win the event in her first SEC championship appearance in 2018.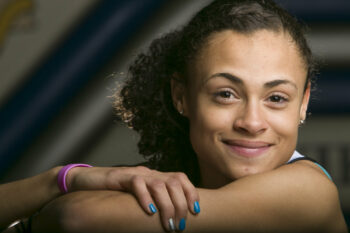 Because she was breaking records, she was invited to try out for the 2016 Olympics team and went to Rio. But the then-17-year-old was starry-eyed and a little bit scared competing against the world's best and she stutter-stepped before the 8th hurdle and didn't do so well.
Dalilah Muhammad took the gold from Rio. They would become friendly rivals, spurring each other on to break records by competing against each other.
Sydney was disappointed with her performance in Rio de Janeiro but vowed to fix her mistakes. She became a professional in 2018 and hired her own coaches.
With six months left before the Tokyo Olympics, Sydney took the unusual step of switching coaches. It was late in the game, and changing up her preparation might throw her off, many thought.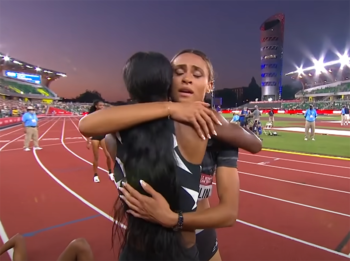 Immediately, legendary coach Bob Kersee taught Sydney two things: to hurdle with either foot and to change her paces between hurdles from the normal 15 to 14. The plan worked. At the 2019 world championship, Sydney finished 0.04 behind Dalilah. At the Olympic qualifiers, the roles were reversed.
Sydney made the world stand up and take note: she had broken the 52-second barrier that no woman had achieved in 400 meter hurdles.
As she saw her score after the powerful performance, Sydney cried on the track.
"What an honor it is to be able to represent not only my country but also the kingdom of God," she wrote on Instagram. "What I have in Christ is far greater than what I have or don't have in life. I pray my journey may be a clear depiction of submission and obedience to God."
A reporter asked her, after she'd won the gold in Tokyo, how she dealt with stress. (Gymnast Simone Biles bowed out of a competition because of anxiety, as did Japanese tennis star Naomi Osaka.)
"Pressure is a weight that you put on yourself that doesn't really exist. It's the fear of something that hasn't happened yet that in your mind you're assuming has already happened," Sydney says on a TJ Sports video. "For me personally what's helped me is my relationship with God. It's helped me to deal with a lot of the emotions that the world throws at you.
"In terms of people who are struggling, I do feel for them. It's a really hard thing to do to compete at this really high level with the whole world watching you. I feel for them and pray for them."
If you want to know more about a personal relationship with God, go here
Read also about fellow Christian track star Allyson Felix, Quanesha Burks, Morolake Akinosun, Gabby Thomas and Athing Mu.
Reporter Michael Ashcraft is a pastor and a financial professional based in Los Angeles.