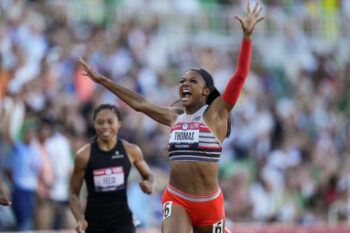 By Michael Ashcraft —
The potato chip — that quintessential diet-doomer with its overkill of salt, fat and, yes, sugar — fed medal-winner Gabby Thomas's running.
Gabby munched chips before getting on the track and burning everybody.
"My first love was soccer," Gabby says on Humbl Nation. "A lot of my soccer skill was speed-related. My college recruit came to watch my soccer game. I was just doing it to do it. I kind of fell into track. In high school, I was just having fun with it. After my sophomore year, I started to take it more seriously. Then with college, it became an option."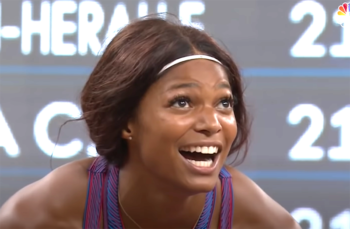 Gabriella Thomas won bronze in the women's 200-meter dash. In addition to track, she's an academic — a graduate from Harvard University — and a born-again Christian.
Just weeks before the Olympic trials, Gabby got an MRI for a hamstring injury and doctors also spotted a tumor in her liver. It was a cancer scare, but the growth turned out to be benign.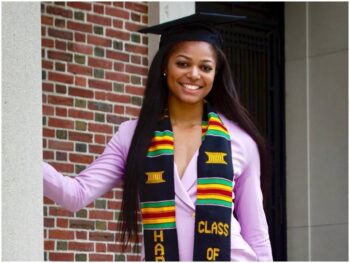 "I remember telling God, 'If I am healthy, I am going to go out and win trials. I'm going to do everything I can to live my life to the fullest,'" she says on the Today Show.
It was Gabby's mom, an academic in Massachusetts, who re-directed her into track. "I signed up for softball, and she said, 'No, you're doing track.'"
Mom says that Gabby used to eat potato chips — a snack not typically associated with good health or energy burst for sports — and then smoke everyone else on the track.
At Harvard, she won 22 conference titles and earned a degree in neurobiology and global health in May 2021. She is currently pursuing a master's degree at the University of Texas at Austin in epidemiology.
In the Ivy League, Gabby went to class from 8:00 a.m. to 2:00 p.m. From there, it was practice from 2:30 p.m. to 6:30 p.m. Then she barely had time to eat dinner before cracking books to study.
"There were many a phone call to my mom during my freshman year in which I was thinking, 'You know, I might just not do track anymore.' I thought it might be too much for me to handle," Gabby says. "But she told me to push through. I'm really glad I listened to her."
If you want to know more about a personal relationship with God, go here
Read also about fellow Christian track star Allyson Felix, Quanesha Burks, Morolake Akinosun, Athing Mu and Sydney McLaughlin.
Reporter Michael Ashcraft is a pastor and a financial professional based in Los Angeles.