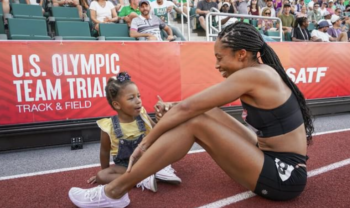 By Michael Ashcraft —
Allyson Felix, America's most decorated Olympic runner, just qualified for her fifth Olympics and celebrated that awesome feat by having a mommy-daughter moment on the track.
"Guys, we're going to Tokyo," she said to her 2-year-old daughter Camryn, who met with another qualifier, Quanera Hayes, and her son Demetrius in front of cheering crowds after both runners burned through a 400 meter dash.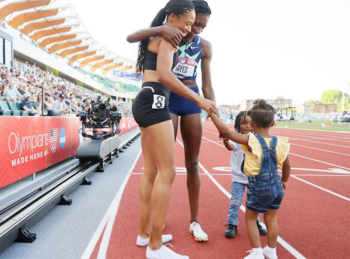 As a Christian, Allyson Felix has pushed back against a growing, secular, anti-mothering sentiment in our nation, that can be said to be iconized by Joe Biden's recent budget that called mothers "birthing persons."
Nike attempted to cut Allyson's sponsorship deal by 70% when she got pregnant. Why? Because pregnant women can't compete in track? Because they're less attractive (according to some sexists) and therefore less marketable?
Whatever Nike's reasoning, there is an obvious pressure on women to eschew having children that seems very much a part of the current social/political milieu of our country. According to this thinking, overpopulation is a grave concern and abortion is a huge remedy.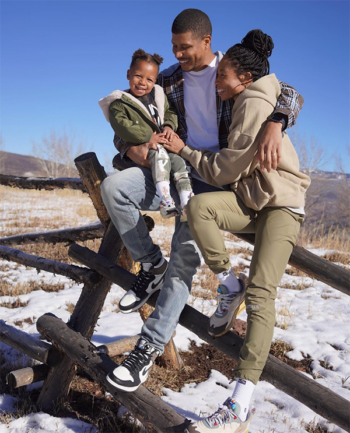 To her shame last January, actress Michelle Williams accepted her Golden Globe award and credited killing her fetus with enabling her to attain her professional goals.
Allyson is quite the contrast to the anti-mothering tendency. "I decided to start a family in 2018 knowing that pregnancy can be 'the kiss of death' in my industry," she wrote in the New York Times.
Nike walked back the threatened pay cut and granted maternity privileges to its athletes only after a public outcry and congressional inquiry aimed at them.
So it was fitting that Felix — the athlete and Christian mother — would bring her cute toddler to the qualifiers in Oregon and take her to the Tokyo games later this summer.
"My faith is definitely the most important aspect of my life," she says on an Athletes in Action website. "I came to know Jesus Christ as my personal Savior at a very young age. Ever since then, I have continually been striving to grow in my relationship with God."
Allyson Felix, now 35, grew up in the Los Angeles area. Her dad is a seminary professor at Pastor John MacArthur's Master's University, while her mother is an elementary school teacher. Her brother, Wes, was also a sprinter but now manages her career.
In high school, Allyson discovered her love for track and flourished under the tutelage of Coach Jonathan Patton. Her slender figure seemed like an improbable frame to carry such explosive speed, and she was teasingly called "Chicken Legs," though she deadlifted 270 pounds.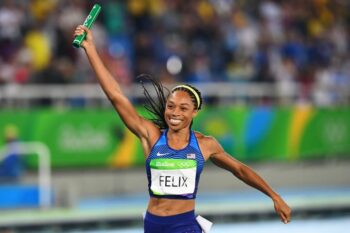 Allyson has won six Olympic gold medals, and three other medals. Among sporting events outside of the Olympics, she has nabbed 12 additional medals from international competitions. Starting in 2004, Allyson has not missed an Olympics and has proven to be one of America's most enduring talents.
She credits God for her flying legs.
"For me, my faith is the reason I run," she told Baptist Press. "I definitely feel I have this amazing gift that God has blessed me with, and it's all about using it to the best of my ability."
She has avoided caving into pressure, she says, by focusing on Philippians 4:6:7: "Do not be anxious about anything, but in everything, by prayer and petition, with thanksgiving, present your requests to God. And the peace of God, which transcends all understanding, will guard your hearts and your minds in Christ Jesus."
At the qualifying event, Allyson was tailing competitors in the 400 meters and looked to be disqualified. She was battling back from a complicated C-section delivery two years earlier.
But she turned on the afterburner in the last quarter and passed two runners to finish second (and qualify).
What inspired her to mount the comeback? Her daughter. Of course.
"I just wanted to really show her, no matter what, that you do things with character, integrity, and you don't give up," Allyson told News Ladizette. "And to me, whether that was winning, losing, no matter the outcome, I wanted to stay consistent with that. Having her as motivation through these past couple of years has just given me a whole new drive."
Biden's usage of "birthing persons" is a term from super "woke" leftists who don't want to exclude women who change their gender and become "men." Aside from scattering God's design to the wind, the term smacks of depersonalization and represents a societal assault on motherhood.
Allyson is not backing down from her role as mother and Christian.
"My running is an amazing gift from God and I want to use it to the best of my ability to glorify Him," she says. "You have to have this passion and you have to have a reason for doing what you're doing. And there really has to be a purpose there, I think that's what drives success. I know my talent is from God. And that's my purpose: to run to glorify Him."
If you want to know more about a personal relationship with God, go here
Read also about fellow Christian track star Athing Mu, Quanesha Burks, Morolake Akinosun, Gabby Thomas and Sydney McLaughlin.
Reporter Michael Ashcraft is a financial professional based in Los Angeles.