By Mark Ellis —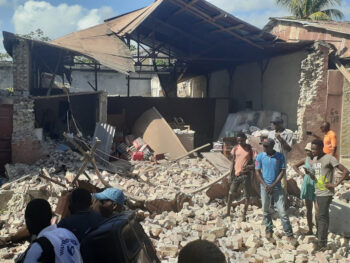 The devastating earthquake that hit Haiti has collapsed homes, churches, and commercial buildings, with a rising death toll and relief efforts impeded by violent opposition militias.
"The death toll has exceeded 1300 and will continue to rise as young men dig out family and neighbors with their bare hands," according to Joel Trimble with Haiti for Christ Ministries.
Haiti's third largest city, Les Cayes, was closest to the epicenter. "Violent Opposition militias inhibited relief efforts on Saturday by turning back ambulances with 12 victims; they terrorize the only road to Les Cayes, population 125,000, and Jeremie, population 50,000," Trimble reported.
"Access to Jeremie after Les Cayes is impossible by vehicle due to landslides and downed bridges following the powerful quake. Planes and boats are the reliable route right now," he noted. (Note: While the road to Les Cayes opened Monday morning, there is no guarantee this will last)
At least 7,000 or more homes were destroyed and 5,000 others were damaged. There were also a number of hotels that were severely damaged or collapsed, according to the Haitian Civil Protection Agency.
"At least three hospitals in affected areas are severely damaged; strong aftershocks have sent residents into open fields and streets away from damaged buildings and walls that may fall with subsequent tremors. Emergency relief needs must be purchased locally and include water, tents, blankets, medical supplies and food."