By Marcus Scribner —
The Tigers had the eye of the tiger, but victorious Coach Dabo Swinney had an eye for Jesus as his team upset Alabama 44-16 for the national championship Monday night.
No one predicted such a lopsided, overwhelming defeat of Alabama's juggernaut offense.
"For me personally, joy comes from focusing on Jesus, others and yourself," Dabo Swinney told ESPN. "It's a blessing. It's the grace of the good Lord to allow us to experience something like this. All the credit, all the glory goes to the good Lord."
Swinney, a devout Christian, led Clemson University over his own alma mater in a victory that had all the experts checking their predictions and scratching their heads.
"This group had the eye of the tiger tonight, man," Swinney said.
Clemson won the game with a grueling front four defensive line led by Chris Wilkins that ate up Alabama's offense, forcing turnovers that gave Clemson the edge.
It all started when defensive back A.J. Terrell picked off one of the nation's best quarterbacks, Tua Tagovailoa, for a pick six. This led to 7-0 lead.
For the first quarter the score went back and forth until Clemson's defense stepped up and Trevor Lawrence, Clemson's true freshman quarterback, began slicing through Alabama's defense with precision passes.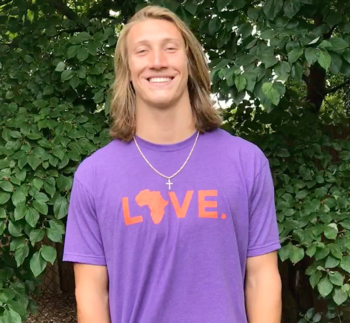 Lawrence, a level-headed Christian, threw for 347 yards and for three touchdowns which suffocated Alabama's defense. His poise was remarkable for someone who was playing in high school a year earlier.
Lawrence didn't do it all by himself; he had help from running back Travis Etienne who rushed for 86 yards and two touchdowns.
Clemson and Alabama both now have two championships since the College Football Playoff began.
The statistics were amazing (for Clemson fans), but a truly remarkable moment was when head coach Dabo Swinney gave the glory to Jesus for all of the success.
Multiple times Dabo Swinney pointed to God, saying He is the reason they got there and that's how they won.
"If little ole Clemson can do it, then anyone can," Swinney said. "People may think I'm crazy, but only God can orchestrate this."
To know more about a personal relationship with God, click here.
Marcus Scribner studies at the Lighthouse Christian Academy in Los Angeles.