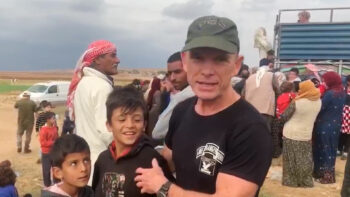 By Clara Grace Czer and Michael Ashcraft –
When ISIS overran Sinjar, newlywed Sousan was captured and forced to become a sex slave for the extremists, being passed from jihadist to jihadist until she made her harrowing escape and was restored to her mother, thanks to the prayers of a former U.S. Army Ranger.
That Ranger was Dave Eubank, an ex-special forces operator turned missionary, who scrapes with death regularly to minister to war-oppressed people from Myanmar to the Middle East. He knows no fear and has been called "the godfather of high-risk mission work."
Dave became aware of Sousan's captivity when he met her husband Fouzi in 2015 in the Sinjar mountains that overlooked the city held by ISIS. A Yazidi, Fouzi pleaded for prayers for the restoration of his wife, as related on the website of Free Burma Rangers, the group Dave leads to give immediate aid to people living in extremely dangerous war-torn areas.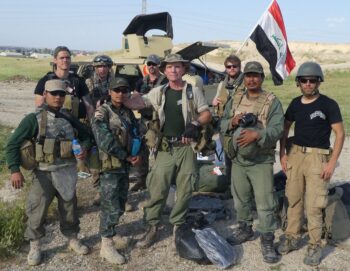 While his team ministered medical and dental care to the refugees in the mountains, Dave would sneak down to the frontlines to treat Peshmerga and Kurdish soldiers who were fighting to liberate the city. From the trenches, Dave would gaze at ISIS positions and wonder about Sousan. Was she alive? Would she be freed? He prayed for her and for his new friend Fouzi.
Inside the ISIS stronghold, Sousan was being repeatedly beaten, raped, humiliated and intimidated. She was bought and resold according to the whim of every extremist, who held it perfectly acceptable to exploit and mistreat people based on the Koranic idea that it's what infidels deserve.
Sousan was Zoroastrian, a minority faith in the Middle East that combines elements of Christianity with Islam. Muslims find this religion particularly abhorrent and subject its adherents to the worst abuse.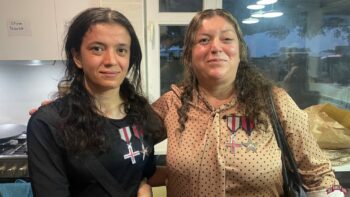 When they took over Sinjar, ISIS summarily executed the men from this group and employed their boys for suicide missions. Women became the spoils of war, objects for sexual exploitation.
Sousan's father is presumed dead. The family has no knowledge of her brother. Her mother and sisters were separated and sold for sex. Sousan was handed off numerous times across Western Iraq until finally she was auctioned off in a stadium in Raqqa, which ISIS adopted as its capitol.
While ISIS retained its grip on the land it seized from Iraq and Syria, Sousan's fate was sealed.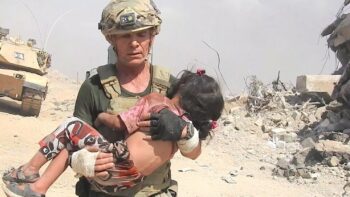 But outside, the Iraqi and Syrian forces, aided by American and British air bombardments and technical aid, were pounding away at the self-declared Caliphate.
In 2014, Dave was fighting to save people in Myanmar when the war exploded in the Middle East. Prompted by the Holy Spirit, he came to Iraq and brought a crack team of war-hardened Burmese workers.
The son of missionaries in Thailand, Dave had come to the United States to study at Texas A&M. He became a U.S. Army Ranger and Special Forces operator and served his country in the military for 10 years. He got married and answered the call to missions to the ethnic groups in northern Myanmar, also known as Burma, suffering genocide at the hands of the country's majority population Burmese.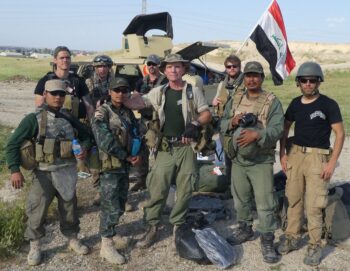 Dave is an unusual sort of missionary. Most often, he is a meek and mild minister of compassion. But he also uses weapons during missions when necessary to protect himself and others from immediate danger. Because he operates in extremely dangerous areas where there is a risk of attack from armed groups, in such situations, he and his team may use weapons for self-defense. Eubank has said that he sees the use of weapons as a last resort
Sometimes it's hard for him to hold back the primeval urge to end the senseless killing by equivalent force, he admits on an Open Road podcast.
Once when a little girl he'd befriended in Mosul was picked off by a bullet and killed as she sat right next to him, Dave had had enough.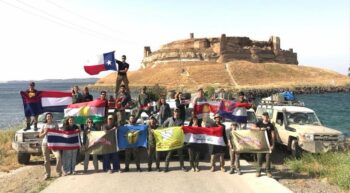 "I'm going to hunt down and kill every ISIS," he vowed. "Maybe I'd fail, but I could not live with myself seeing this little kid killed. It could have been my kid. I had to stop them."
He relented from revenge rage, after consulting his chaplain from Myanmar, Kaw Paw Say, aka "Monkey." Also in his devotions flipping through his Bible, he stumbled across three separate times the scripture: "Vengeance is mine, says the Lord, I will repay."
"I said, okay God, I give up revenge. Jesus, please forgive me for calling it justice," Dave says. "What's the difference between justice and revenge? It's love. Justice means you want what's right and you care that the perpetrator changes his heart also."
While he relented from returning fire, he has never relented from running into fire to rescue someone.
Once as Mosul was under siege, he spotted a girl behind a wall. People were fleeing ISIS and most were mowed down by ISIS bullets, including the girl's mother. Through binoculars, Dave could see the dazed look of a girl in shock, still very much alive. Someone had to save her, but it was a suicide mission.
With the help of Americans who used bombs to create a smoke screen, and Iraqis who helped him move forward with a tank, Dave darted out from behind the tank as two buddies provided cover fire. He ran through a splattering of bullets to reach the girl, peeled her off her dead mother and scrambled back to the cover of the tank.
"I couldn't believe I was still alive," he said.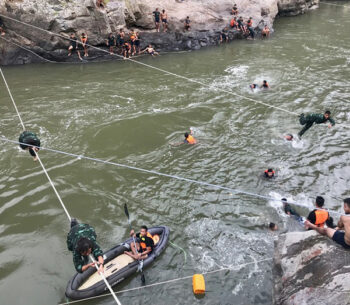 With the help of the Iraqi general, he found Damae's grandmother, who cried profusely. "You have saved my life too," she said through a translator, trying to kiss his feet, an act that Dave refused. She had lost everyone: the rescue of her granddaughter "saved" her life.
He's run through a hailstorm of bullets, survived shrapnel from a suicide blast, narrowly escaped bombardment from a Turkish drone. Through unending mayhem, Dave has survived.
Of his teammates, 40 have not been so lucky. They've paid with their lives to serve God in the hottest hot spots on the planet.
The bulk of his 6,000 relief workers is Burmese, whom he personally trains.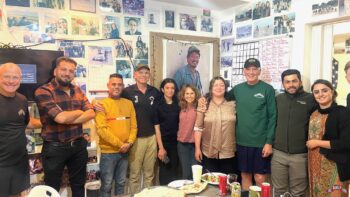 Shockingly, his wife and three children are also on his teams. Karen Eubank administers medicine, out of shooting range but not out of mortar range. His daughters drive armored ambulances. His 16-year-old son drives a Humvee. The kids grew up being nursed in the jungle, fording rivers and training with the teams.
Dave's brand of missionary love has opened the gospel to the most unusual lost people on the planet, from spiritists, atheists and even a Muslim Iraqi general who hated Americans. He has saved countless people.
But Sousan remained unrescued.
Dave's team came and left Iraq in 2015. The next year, the Iraqis defeated ISIS in the Kurdish areas, including Sinjar. By 2017, they ousted ISIS entirely from Iraq and only had patches in Syria.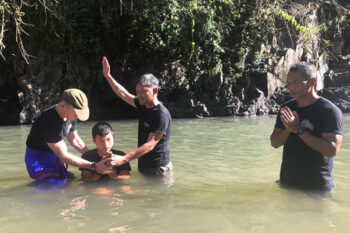 In 2019, hardcore militants holed up in Bagouz on the Euphrates River to make a last stand. Many Yazidi women were able to flee.
No sign of Sousan.
Fouzi, her husband, heard a report he thought reliable affirming she had been killed in an airstrike.
He remarried and had two children.
She had not been killed. Instead, she ended up in a refugee camp, Al Hawl, containing 72,000 people from 52 different countries. Camp organizers didn't know who was a victim of war or a perpetrator of water, so they treated everyone toughly.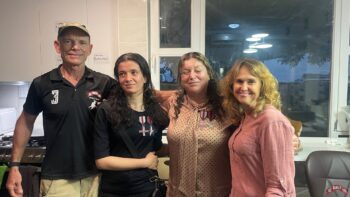 Sousan, who had been a prisoner for five years lived in fear and never asked for help – until October 2022 when she mustered the courage to plead with a guard for assistance to be reunited with her family.
"I am Yazidi," she implored a guard. "Please help me."
She was restored with her mother and sisters who had survived similar ordeals.
Dave was in Iraq preparing for a mission to Syria when he got the call from a team member that Sousan had been found. She was with her mother and brother-in-law. Dave invited them over.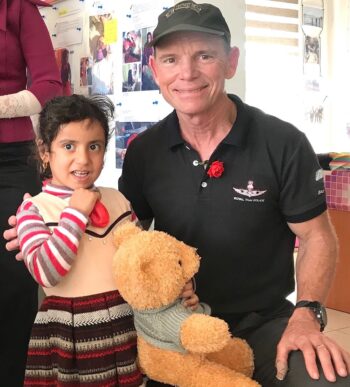 "They told us their story. They began to cry and cry," Dave says. "We cried with them and hugged them and prayed with them and talked to them about Jesus' love and told them how hard we had tried to rescue them. We also made jokes with them that God helped us with, and they began to laugh and smile."
After four hours, the depressed tears of trauma had turned into laughter and smiles and hugs.
"God has given us a new life," they said. "We're going to make the best of it."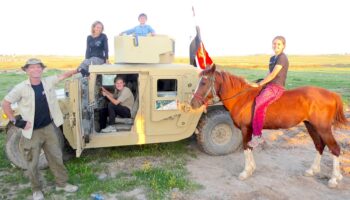 Obviously, Sousan was disappointed that her husband had remarried. "That broke my heart," she admitted.
But with her mother, she moved to Germany as a refugee. Dave provided them with a Bible, financial assistance, and the bright hope of a new life.
If you want to know more about a personal relationship with God, go here
About the writers of this article: Clara Grace Czer studies at the Lighthouse Christian Academy in Santa Monica. Her journalism instructor Mike Ashcraft was a missionary in Guatemala for 16 years. Unlike Dave, at the first sign of trouble (his kids were in danger of being kidnapped), Mike fled. He admires missionaries braver than himself.