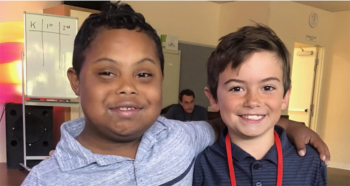 By Michael Ashcraft —
Gina Spivey's church is reaching the biggest unreached people group in America, and you may not know they're an unreached group.
They are people with disabilities, and tragically many churches don't want to focus ministry attention on this group — which constitutes about one-fourth of America — because they require extra facilities, special attention and sometimes disrupt the service, says Ryan Faulk of Joni & Friends.
"Of the 61 million American adults living with some sort of disability, there are about 2.25 million who—statistically speaking—should be attending church, but don't," writes Ryan on the Joni & Friends website. "A 2018 study from Clemson University shows that children with any kind of disability are less likely than their peers to attend church, and children with autism are nearly twice as likely to never attend a religious service."
For the last decade, Spivey's church, Calvary Community of Westlake Village just outside Los Angeles County, has made a concerted effort to accommodate people with "special abilities."
"They're invaluable. People with special abilities have such a simple clear understanding of the love of God," says Gina, pastor of special abilities at Calvary. "They're not as bogged down by noise and politics and the world and all of the things that can confuse who God is. They have a childlike faith that we can be reminded how simple the love of God can be.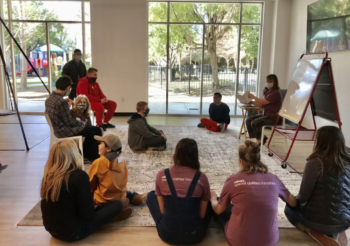 "Beyond that, they help us to understand what it means to serve someone who can't serve us back quid pro quo," she adds. "It shows us how it is to love someone and lay down our lives for them."
Spivey oversees 300 volunteers who actively seek and serve people with special abilities. They just finished a 2,300-square-foot wing of three classrooms that include changing tables, secure doors and classrooms built for the "higher level of care" required.
Calvary Community conducts trainings, offers respite care, stages proms and Christmas events, and institutes a buddy program which hooks up a non-special abilities friend with a special abilities person in their integration classrooms, Gina says.
The results speak for themselves. The church now has a database of 700 families with one or more child or adult with special abilities, Gina says.
Because Calvary Community is oriented towards people with special abilities, their families drive long distances to get there. As a result, church growth has surged.
"It just really exploded," Gina says. "We have a heart to help. The church understands the value of people with special abilities."
Such is the success at Calvary Community, they train and help other churches develop the programs they can. To be sure, there are daunting challenges with hosting these people: there are construction renovations to make room for wheelchairs and potentially a need for liability insurance.
Larger churches should be challenged to focus on Christ's mandate to reach all people and prioritize people with special needs in their budgets, Gina maintains. Smaller churches should do what they can to have an openness and love for anyone who walks — or rolls — through their doors.
"Smaller churches always ask: What do we do if we don't have the same resources that you have?" Gina says. "Just do it. Just be a buddy. Just invite people into your church. Just find a way to support one family."
Cavalry Community aimed at helping people with special needs because Senior Pastor Shawn Thornton's mother suffered a traumatic brain injury, requiring special care for her. Shawn saw how little accommodation the churches made for people like his mother. He studied at Bible School and got ordained with a desire to do things differently.
"We the church can't eliminate an entire people group just based on a disability," Gina says. "One in four families is affected by disability. When you cut out that group, you eliminate a quarter of the people in the United States. If you can't create a space for the person with special abilities, you're eliminating their whole family who takes care of him. We're called to open our church doors to everybody and welcome everybody in."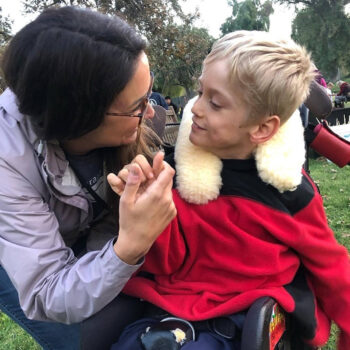 Gina, 39, has ministered to people with special abilities all of her adult life. First, she worked for a nonprofit in South Central Los Angeles while in college taking care of kids with pre-natal exposure to alcohol and drugs resulting in disabilities.
When Calvary Community, which she has attended since she was young, began to see how to serve this group, Gina was a natural fit to oversee these ministries.
"God just lit a fire in me when I was young to love people with all sorts of abilities that were different from mine," Gina says. "I've seen how this group of people is often cast aside."
Although people with autism may act up or talk out loud during church, the need for an uninterrupted service is lesser than the need to minister to America's population, she says.
"People with intellectual disabilities can understand the gospel, can be discipled, can read the Bible," Gina says. "So we have a responsibility to those people and their families to make the Gospel available to them."
If you want to know more about a personal relationship with God, go here
Michael Ashcraft pastors a church in Van Nuys with some "special abilities" people in attendance.
Read about the loving developmental disabled couple who wants to have kids.
Read about a deaf couple who are missionaries in Africa.