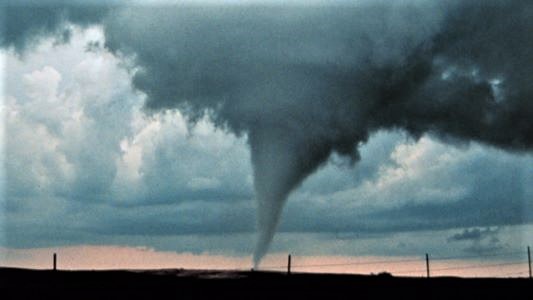 By Carol Round – "Yea, though I walk through the valley of the shadow of death, I will fear no evil; For You are with me; Your rod and Your staff, they comfort me"—Psalm 23:4 (NKJV).
As my dog and I huddled underneath a makeshift tornado shelter in my bedroom, I was listening for weather updates on my cell phone. Meteorologists were releasing tornado warnings for our area of northeastern Oklahoma. Yes, in February, we were experiencing wicked weather.
Since experiencing a May tornado hitting one of my previous houses in 2016, I knew to prepare, thanks to the warnings. Harley and I rode out that storm in my walk-in closet. Huddled underneath blankets and pillows that time, it was hard to breathe.
We survived that storm but it left me with post-traumatic stress disorder (PTSD).  Triggered by a terrifying event, PTSD symptoms may include flashbacks, nightmares, and severe anxiety. For me, it is severe anxiety when forecasters predict the possibility of tornadoes in my area. Fear of another tornado hitting causes my heart to race.
Overcoming Fear
Anxiety stems from a spirit of fear. In 2 Timothy 1:7, the author writes, "For God has not given us a spirit of fear, but of power, love, and sound mind."
I know God was watching over Harley and me seven years ago, but my anxiety sometimes gets the best of me. Since then, I now prepare before the storm. Even though the enemy whispers lies, causing me to worry, as the years pass, my fear no longer leads to a racing heart.
If the tornado sirens go off and a warning blares on my phone, I huddle deeper in my makeshift shelter, lift my worries in prayer, and pull Harley closer to alleviate his fear. It is because of God's presence with us that I can bring comfort to my dog.
A God of Comfort
Reading and memorizing scriptures brings me comfort. God's Holy Word reminds me that "He will never leave us nor forsake us" (Deuteronomy 31:8).
Preparing my makeshift shelter underneath a mattress brings me a measure of peace before the storm. But God's Word reminds me of His protection during the storms in life that have eased my fears.
Psalm 23 is a wonderful reminder:
The Lord is my shepherd;
I shall not want.
He makes me to lie down in green pastures;
He leads me beside the still waters.
He restores my soul;
He leads me in the paths of righteousness
For His name's sake.
Yea, though I walk through the valley of the shadow of death,
I will fear no evil;
For You are with me;
Your rod and Your staff, they comfort me
You prepare a table before me in the presence of my enemies;  
You anoint my head with oil;
My cup runs over.
Surely goodness and mercy shall follow me
All the days of my life;
And I will dwell in the house of the Lord Forever.
His Word can help alleviate our fears. God is our shelter in the storms of life.
If you want to know more about a personal relationship with God, go here
I always love hearing from my readers. Please feel free to e-mail me at [email protected] with your thoughts or visit my blog for more inspiration at www.carolaround.com. If you need a speaker or workshop leader, you can contact me at the above e-mail or through my website. I'd be delighted to hear from you.
Photo credit: https://www.noaa.gov