By Don Biadog —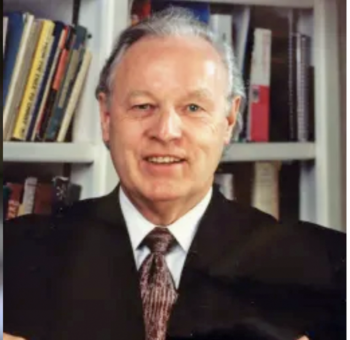 Remembering Dr. Russell P. Spittler might be a strong tendency for anyone impacted by his mentorship, teaching, ministry, or friendship. Mental images come to mind of him as a serious intellectual, mentor, professor, or friend. Meaningful interactions and learning opportunities abounded with every dialogue with Russ. Just seeing him on campus at Fuller Theological Seminary, enriching students' lives with his vast knowledge about theology, the cultural background of any text of scripture, and his experience of the risen Lord in his life, made matriculating meaningful at Fuller.
In 1961, a few years before becoming one of the earliest US Naval Reserve Assembly of God chaplains, Dr. Spittler, who blew students' away, figuratively speaking, with his humility in bidding them to call him just "Russ," began attending Harvard Divinity School in Cambridge, Massachusetts, with Verna Linzey's husband, Stanford E. Linzey, Jr., who was the first Active Duty Navy Assembly of God chaplain. In 1970 at the Senior Navy Chaplains' School at Naval Station Rhode Island, Chaplain Linzey was nicknamed by the chaplains as the "Father of the Fleet" for having had the largest Navy family at the time—ten children.
Russ thus prophetically attributed the name "Mother of the Fleet" to Assembly of God minister and Charisma author Dr. Verna M. Linzey who translated Proverbs for the Modern English Version Bible translation. He had prophetic insight, for this title became official when, unbeknownst to Russ, Admiral Frederick C. Johnson, USN, and his staff of US Naval and US Marine Corps officers later certified Verna as "Mother of the Fleet" for building the largest Sunday School program in the US Navy at NAS Moffett Field from 1968 to 1970.
Russ was a very humble human being, carrying no airs in his stride, non-judgmental, exhibiting unconditional positive regard for all regardless of their religion or situation in life, appreciating others' humor, and springing on them an occasional theological pun. In class and in person, Russ was consistent in ethics, integrity and profession of belief in Christ. He experienced and lived his theology, religion, and beliefs.
Edward W. Watson, Ph.D., Senior Professor of Biblical Literature and Practical Theology, Graduate School of Theology and Ministry at Oral Roberts University, and Senior New Testament Editor of the Modern English Version, who served on various committees with Russ, said:
Dr. Spittler's legacy in Pentecostal studies is treasured by all those he has impacted. He not only was an outstanding teacher and author, but he brought legitimacy to the movement through his connections to biblical scholarship. His leadership in the academy will continue to resonate for generations to come.
At Fuller, in addition to all the courses he taught and books he wrote, he held the positions of Liaison Officer for the Western Association of Schools and Colleges, Senior New Testament Professor, Provost, Vice President of Academic Affairs, Provost Emeritus, and Professor Emeritus of New Testament. He passed away on Friday, January 20, 2023. He attained the rank of Captain as a chaplain in the US Naval Reserves.
One of Russ's former Vanguard University and Fuller Seminary students, James F. Linzey, D.D., Chief Editor of the Modern English Version, reminisced:
Dr. Spittler mentored me and trained me for a successful military chaplaincy career as well as academic research, writing, and teaching. He was incredibly gifted in mentoring us students and preparing us academically for our respective callings in life. He was an outstanding mentor, personal friend, and friend of my parents.
It could be said that Russ had an impact on the creation of the Modern English Version Bible translation due to his profound impact on numerous scholars, including many not mentioned here, who served on its translation committee.
At his funeral on February 9, 2023, immense respect was shown by others with great character—people whose lives were obviously enriched by him and consumed with memories of his life and the impact his life made on theirs. They saw that his effect on the church and perhaps the world was unfathomable. Dr. Russell P. Spittler was the world's foremost expert on the letters to the Corinthians by the apostle Paul. He will be remembered as an inspiring professor and a remarkable friend.
About Don Biadog
Commander Manuel "Don" A. Biadog, CHC, USN (Ret.), served under the supervision of Captain Russell P. Spittler, CHC, USN, and was one of his students at Fuller Theological Seminary. He retired from the US Navy while serving as the Command Chaplain, MCAS Miramar, San Diego, California, having served for nearly 30 years with honors and the recognition of the president of the United States. He was the officiating chaplain at the United States Marine Corps ceremony when Admiral Frederick C. Johnson, USN, certified Verna Linzey as "Mother of the Fleet" of the US Navy. Chaplain Biadog is a Southern Baptist minister and a delegate from the SBC to mentor SBC military chaplains throughout the world. He was the first chaplain to use the Modern English Version as a pew Bible in the United States Armed Forces.