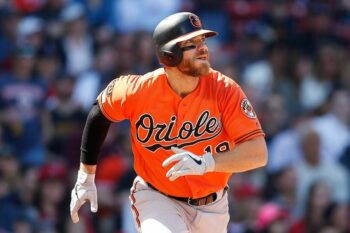 By Allie Scribner –
In 2010, Chris "Crush" Davis was getting crushed by bad stats. He was batting .192 with one measly homer in 45 at-bats, far removed from his reputation as a great hitter. He even got left off the playoff roster.
"I was really, really struggling," Chris says on an Idols Aside Ministries video. "I had a lot of hatred and animosity. I wanted to blame everybody except myself."
The slump led him to soul-searching, which in turn led him back to the Savior he had known as a five-year-old in Mom and Dad's Baptist church in Longview, Texas.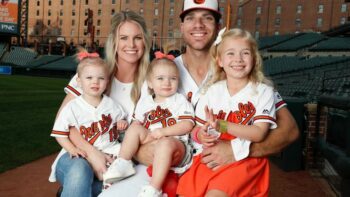 Chris Davis was nicknamed "Crush" because he was a power hitter. At 22, he was already in the Big Leagues, playing for the Texas Rangers.
"I had all the money I could have ever wanted, had my own place in downtown Dallas. I had as much fame as I ever wanted," he remembers. "But I woke up everyone morning feeling this huge void. I tried to fill it with alcohol, girls, going out every night, whatever I could to distract myself."
When he was in a slump, he reached out to some fellow baseball players who were Christians. One was David Murphy, a strong Christian who had never wavered in his faith, and Josh Hamilton, who had overcome drugs to make it back into the Big Leagues. Those men counseled him and had a major impact on his life, still advising him to this day, he says.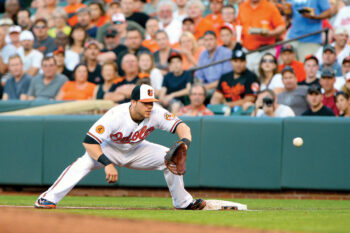 He started reading his Bible and really praying. But the real turning point came one night when he woke up in his hotel following a World Series game against San Francisco. He felt an evil presence that freaked him out.
"The lights were completely off; it was pitch black," he remembers. "I didn't feel like I was alone. Whatever was in there with me was not on my side. I started praying and really crying out to God. That was the night I really surrendered to Christ."
The next morning, he called his fiancé.
"I haven't been the person I've wanted," he told her. "I want to get back to (the faith of my childhood). I want to be the husband you deserve. I want to be the friend my friends deserve. I want to be the son my parents deserve. I want to live my life with Christ."
He married Jill in 2011. Crush has been crushing it in Jesus since then.
In addition to playing for the Rangers, Chris slammed balls home for the Baltimore Orioles, whom he helped in 2012 to the playoffs for the first time since 1997. The next year he set the franchise record for homeruns in a single season with 53 out of the park hits. Throughout his career, he played first base, third base, outfield, and designated hitter.
Since retiring in 2021, Chris lives in Baltimore with his wife, Jill, and three daughters.
If you want to know more about a personal relationship with God, go here
Allie Scribner studies at the Lighthouse Christian Academy near Beverly Hills.