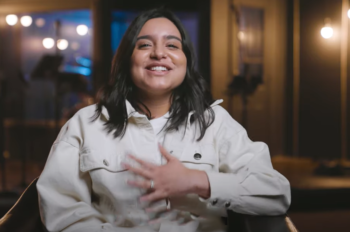 By Michael Ashcraft –
After being molested at age 7, Jazmin Santos was haunted by a question about her eventual future husband: How could he love you when you've gone through this?
"I battled with those things for so long," she admits on a Delafé video.
Jazmin's story shows that Jesus can redeem everything the devil intended for evil.
Born in Honduras, Jazmin Santos immigrated with her family to the United States when she was five. She grew up in church.
Unfortunately, she was molested in church by someone with a close connection to the family.
For years, Jazmin locked the dark secret in the rusted tin box within her heart. She always felt weird around everyone. She felt abandoned and rejected.
"I didn't really dwell on it," she says. "I just kept moving forward. It was like, oh well, that happened."
She was always the good girl and thought she was a Christian automatically because she went to church, but at age 13, Jazmin attended a retreat where in a workshop she poured over a list of sins and checked off ones that applied and realized she was a sinner needing a savior.
"God, I'm a sinner. I'm broken. I'm a mess," she prayed. "I ran up to the altar and fell on my face and was crying. I felt this conviction come over me."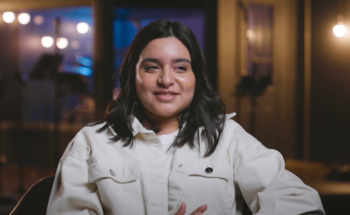 She realized she needed healing from the traumatic sexual exploitation.
"I didn't tell anyone because I was scared," she says. "The only person I told was my cousin because she was like a sister to me."
One day, that cousin outed her gently and lovingly with her mom.
"She needs to know," the cousin said when only the three were in the room. "She loves you. She cares for you."
Under this prodding, Jazmin summoned all her courage and told Mom. Mom listened intently and was concerned. It was a great unburdening.
Dad was another story. When he learned about it, it was perhaps too painful to hear. Maybe he couldn't process it or didn't want to believe. Maybe he was really close to the perpetrator. But he acted like he was too busy to be bothered and watched a movie.
"It was really hard for him to accept," Jazmin realized. "In that moment I felt rejection."
At 16, Jazmin again sought help, this time telling her church leaders.
"They put me on a journey of healing," she says. "They told me that God was going to bring me through a process. God's presence came and swallowed up all the abandonment."
Her church friends were especially supportive, sensing when she felt bad and taking a moment to pray for her.
"What God did in me was kind of a miracle," she acknowledges. "God gave me back my innocence. He protected me because I could have fallen into so many things," like pornography or sexual addiction.
But the looming questions were always: Who would marry her? How could she turn sex into a beautiful thing since it started as an ugly violation?
How could anyone ever love me? How could a man ever love me with what happened to me? she wondered. "I felt not worthy to ever be loved."
At 15, she and 18-year-old Jonathan caught eyes and felt mutual attraction. Jazmin didn't want to make any missteps, so she asked him to wait until she was 18. They kept their relationship in the friendship zone only.
"When I turned 18 and we started dating, I was able to open up and actually share with him my story," Jazmin recounts. "When I did, he didn't run away. He listened and he told me that it didn't change the way that he saw me. He just encouraged me and said, 'I can see even how God has used this to make you into the person you are today.'
"It really just broke off all the shame and all the lies," she adds. "I had been praying about it for weeks. I was so scared to tell him."
There remained only one worry. Could marital sex with Jonathan be pure and enjoyable or would the memories from the molestation creep in and contaminate her marriage bed?
"When I got married, the Lord just took over. His presence just met us. It was just crazy. It felt
like i had battled with those things for so long for no reason. Because when we entered into
covenant marriage, I had such a peace and he affirmed me in so many ways.
"I felt so free."
If you want to know more about a personal relationship with God, go here
Michael Ashcraft is a pastor and a financial professional in California.