On June 5th, gunmen attacked St. Francis Xavier Catholic Church in the city of Owo, Nigeria, during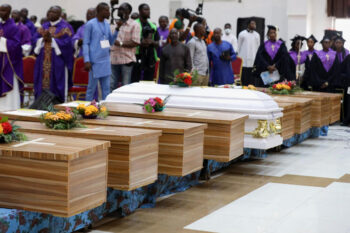 Pentecost mass, killing dozens, including children. Until now, this sort of attack has been rare in Nigeria's Christian-majority southwest. No one has been arrested for the attack, according to Christian Solidarity International (CSI).
On June 17th, the Catholic Diocese of Ondo state in Nigeria laid to rest the bodies of more than 40 churchgoers who were murdered on Pentecost Sunday. CSI has called on US Secretary of State Blinken and is now calling on British Foreign Secretary Liz Truss to use the upcoming ministerial for freedom of religion or belief in London to designate Nigeria as a "country of particular concern" for "systematic, ongoing, egregious violations of religious freedom."
In an open letter to Foreign Secretary Truss, Dr. John Eibner, the president of CSI, warned that "Nigeria has experienced a spike in atrocity crimes committed against Christians" since U.S. Secretary of State Antony Blinken's decision last November to remove Nigeria from the U.S.' own list of "countries of particular concern."
"Washington's declaration that it had no 'particular concern' about religious freedom in Nigeria was openly celebrated by advisors of Nigeria's President Muhammadu Buhari," Eibner noted. "But it was widely condemned by representatives of Nigeria's victimized religious communities."
The upcoming International Ministerial Conference on Freedom of Religion or Belief, scheduled for July 5-6 in London, is part of a series of religious freedom ministerials that was launched by the US government in Washington DC in 2019. A UK government strategy document from July 2021, "Global Britain in a Competitive Age," highlighted the planned 2022 Ministerial, and called the "campaign for religious freedom" a "vital instrument of our influence overseas."
Eibner urged Truss to use the Ministerial to propose "the adoption of a resolution declaring that Nigeria is indeed a 'Country of Particular Concern'" and to "urge Secretary Blinken to reinstate Nigeria on the U.S. Department of State's list."
Two more churches attacked in Nigeria
Unknown gunmen suspected to be terrorists attacked worshippers at a Catholic church and a Baptist church on Sunday morning – both of them located in Kajuru Local Government Area, Kaduna State – in the latest instance of insecurity in Nigeria.
Media reports say the attackers struck Maranatha Baptist Church and St. Moses Catholic Church on 19 June, killing at least three people, injuring two others, and kidnapping over thirty persons in the raid.
The attack came barely a week after some terrorists invaded communities in the same Kajuru LGA, killing over 30 villagers.
CSI helps restart a theater in Armenia
Before the invasion by Azerbaijan and Turkey, Anna Mkhoyan and Manya Ghazaryan led a safe and fulfilling life in Shushi, the second largest city in Nagorno Karabakh. Anna was the director of a puppet theater, and her friend Manya worked as a producer in the same theater. After the outbreak of war on September 27, 2020, the two women had to leave everything and flee.
Azerbaijan conquered Shushi and cleansed it of its Armenian Christian population. Anna and Manya resettled in the Armenian city of Gyumri. Thanks to their courage, strong will and the support of CSI's partners, they were able to restart their puppet theatre in Gyumri, and continue to use their passion to bring joy to Armenian children. We thank God for his faithfulness to Armenian Christians from Nagorno-Karabakh even amidst the war and loss of their homes. — CSI
To learn more about the work of CSI, go here