By Jane Rodgers —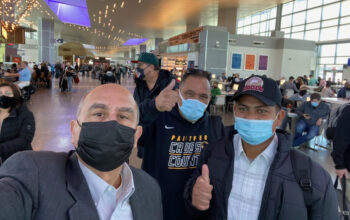 Pastor Carlos Navarro and Golan Ministries of West Brownsville Baptist Church have long engaged in ministry to migrants seeking entry into the United States from Matamoros, just across the Texas-Mexico border. By April 2019, the church eagerly opened its renovated respite center, a stopover for migrants entering the U.S. legally, cleared by ICE and border patrol and awaiting transport to destinations within the U.S.
When Navarro and volunteers weren't handing out water, hygiene items and Gospel tracts across the border, they were feeding migrants and distributing clothes, Bibles and travel necessities to the temporary migrant guests at the church. At least until COVID struck.
Although the influx of asylum seekers ebbed during the Trump administration, Navarro said, the church continued to share the Gospel with those who did come.
Since April 2019, Navarro estimates that the church has ministered to nearly 17,000 migrants, given out 7,255 Bibles and served 28,000 meals. Those numbers reflect times before and during COVID.
Navarro admits that the pandemic pushed pause on the ministry somewhat in 2020, but he and his wife were able to be vaccinated as essential workers in the fall of that year.
With the coming of the Biden administration, Navarro said the gates to entry in the U.S. opened wider. Navarro, with fewer volunteers than in pre-pandemic days, again stepped up the church's outreach to migrants.
"A big landslide [of migrants] started to arrive," Navarro told the TEXAN.
When county authorities closed the church's respite center to migrants because of COVID restrictions, ministry shifted to the local bus terminal. (See Border ministry.)
Navarro described the way things work in Brownsville currently.
Migrants are tested for COVID by ICE and border authorities, Navarro said. Those testing negative and with sponsors in the United States are then sent to the local bus station to await transportation. When ICE is about to release a group of 75-100, Navarro receives a phone call. He and Golan volunteers head to the bus station with water and sundries. He preaches the Gospel, and church members distribute backpacks full of Bibles, tracts and other helpful items.
Migrants testing positive for COVID are quarantined in an area hotel, he said.
Lately, the migrants have come mostly from Haiti, he said, though they also see a lot from Venezuela, Cuba and Nicaragua. Others are arriving from Guatemala, Honduras, El Salvador, Mexico, Peru, Ecuador, Columbia, the Dominican Republic, Bangladesh, Pakistan and India.
Navarro stresses that those the church is serving have been admitted to the country legally. The city of Brownsville and Cameron County are not allowing them to stay overnight, so they depart for other areas of the U.S., mainly Florida.
Navarro estimates some 5,792 decisions for Christ have been made by migrants under the church's ministry since April 2019. As hundreds of new believers head to Florida, he not only gives them his business card, but tells them to contact him when they are settled. He recommends churches where they can continue their new walk with Jesus in the Sunshine State.
Florida pastors have noticed the increase in numbers. On the recommendation of 38 Florida Baptist pastors, Navarro was invited to Lakeland, Fla., to address groups at the Florida Baptist Convention's annual meeting Nov. 7-9. He spoke from Proverbs 14:25 at the convention's Spanish session and gave a short presentation to Tommy Green, Florida Baptist executive director.
"We appreciate Brother Carlos," said Scottie Stice, SBTC Disaster Relief director, of Navarro and his church. "A faithful witness. A faithful evangelist. It's unbelievable what he and Golan and West Brownsville Baptist have done to minister to migrants."
Navarro understands that the controversy surrounding immigration. A U.S. citizen who has received numerous civic awards, served on local, state and national councils, and even been invited to the White House during the Bush administration, Navarro was once an illegal immigrant himself who fled his native Guatemala to escape political imprisonment … or worse. (See Migrant crisis a way of life.)
During a recent layover at Dulles International Airport in Washington, D.C., Navarro was stopped by a woman doing janitorial work.
"Excuse me, sir. Are you from Texas? Are you a pastor?" she asked. Then she went on to thank him. "I am working here legally. You helped me, you and your church."
Navarro said the church could use hygiene kits and t-shirts, sizes S, M, L and XL, for its ongoing ministry.
The migrants are here. Telling them about Jesus is the thing to do, he believes. — Baptist Press
Jane Rodgers is managing editor of the Southern Baptist TEXAN, newsjournal of the Southern Baptists of Texas.