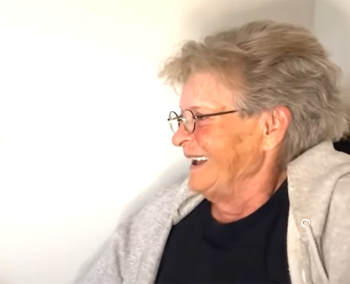 By Michael Ashcraft —
Pam's own mother called her an "abomination" and "scum of the earth" after the 14-year-old admitted she was lesbian in 1970.
"I knew that I was lesbian when I was three. Absolutely," Pam, now 62, says during an Arianna Armour interview.
By contrast, her grandparents, because they were hairstylists and knew homosexuals — were far more accepting.
"My grandmother showed me true unconditional love. She didn't care what I said I was. She just handed me to God," Pam says. "My mom had a wicked, wicked Jezebel spirit."
Conceived by date rape, Pam was given up for adoption in Florida. Her adopted mom adhered to a legalistic form of Christianity.
Then in the fourth grade, Pam (no last name given) was raped by a neighbor boy. When she wanted to be a drummer, the music instructor molested her at age 11.
"I was like, I'm gonna keep my mouth shut," she says. "I was afraid to say anything because I would be ostracized."
Pushing her further toward the LGBT community, a warlock raped her in 1975.
Sadly, her parents' expression of faith drove her further from God.
"I wrote out a contract in blood to Satan," she says. It was an effort to get out of going to church and Sunday school.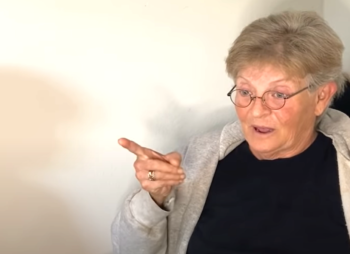 When her adopted dad found out about the Satanism, "he tried to kill me," Pam says. "He said he was going to beat Satan out of me. He was beating me but all of a sudden I felt power. I hit him and he flew back and hit my dresser."
Pam was thrilled with the power, but the devil let her down on another occasion when her dad came back and beat her severely.
"I would have poltergeists come into my room," she says. Demonic spirits would move objects and make noises. A lamp with a decorative face turned and looked at her.
"If you're in Satanism, get out of it. It's not just animal sacrifices," she says. "They take aborted babies and they will eat them*. They have doctors and nurses in the coven, so they do abortions. It's flat-out real. Spells are real. Everything like that is real. If you're looking to get into this for power or prestige, you may get that a short window of time, but I'm telling you God has much more power than Lucifer."
When she fell into drugs, she was taken to mental hospitals. She saw people chase invisible animals and get electro-convulsive therapy.
"They used me as a guinea pig with different drugs for PTSD and extreme clinical depression, rage," she admits.
Pam embarked on a lesbian relationship for 15 years that was "pure hell," she says.
She lost jobs because of her homosexuality.
"I'm the type of person who so believes in love, I would give my all," Pam says. "I would give my whole paycheck to help with the bills. She was shopaholic and bipolar. I tried to let her know what true love was. I understand people stay in abusive relationships because you hear what they want you to hear."
After 59 years of living as a lesbian, Pam got delivered during an outreach at a park in Orlando, Florida when ex-transgender Arianna Armour exorcised her. She received Jesus into her heart and became born-again.
"For 62 years, I have walked with a shadow behind me," Pam says. She's free and happy now.
If you want to know more about a personal relationship with God, go here
Michael Ashcraft teaches journalism at the Lighthouse Christian Academy in Santa Monica.
*Disclaimer: The allegation is extreme and should only be made with caution and journalistic skepticism. It might be that Pam is relating hearsay or making outlandish claims. However, her matter-of-fact demeanor and the general direction of the interview to help people in LGBTQ doesn't seem consistent with someone who is seeking attention. At the same time, if you're going to get eyewitnesses of unimaginable evil, you're going to need to consult people who are close to the source. This reporter does not find grounds to doubt her claim but cannot affirm its veracity through his own observation.