By Mark Ellis —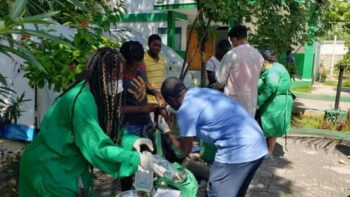 With the beleaguered country of Haiti suffering from a devastating 7.2 earthquake, a tropical depression named 'Grace,' and political instability since the president's assassination, an urgent call has gone out for first responders amidst a shortage of medical supplies.
"The pain and suffering is massive and the death toll is going to continue to rise," says Dave Brodsky, founder of Chanje/The Global Mission. They operate a shelter for girls in Port-au-Prince that mercifully survived the quake, which had an epicenter 90 miles southwest of the capital.
The relief effort has been hampered because of poor access to the damaged area. "There are single lane roads out to the southwest of Haiti, and the roads were already in poor condition, some blocked in part by gangs," Brodsky told God Reports.
"Since the president was assassinated on July 7th, even Doctors Without Borders had shut down one of their operations because of the gang war outside of Port-au-Prince. That's where the road needs to be passed to get down there."
The hospitals and health centers are not safe to inhabit in the city closest to the epicenter, Les Cayes, so patients have been forced to stay outside, even as Tropical Depression Grace thrashed the island. It is estimated that 4200 people are sleeping in the streets in Les Cayes alone, according to Haiti One.
"There are tons of orthopedic injuries, because everything is built out of block, so you have blocks falling on people, breaking bones.
"The surgeons are out of gauze; they are out of iron to put rods in; surgery has almost stopped, they are out of doctors, nurses, and equipment," he reports.
There is an urgent need for medical personnel and supplies, medications, food, tarps, and water.
"Teams are being assembled through great organizations like Samaritans Purse and Convoy of Hope. If you are not a first responder, probably the best way to do something is to give financially," Brodsky says.
"Give through an organization you know and trust," he adds.
His organization is sending a team this weekend, including their medical director and their national field staff. "Whatever we can't do in person, we are sending resources with partner organizations," he says.
In April, more than a dozen escaped convicts broke into the orphanage run by Chanje, killed their security guard and assaulted many of the girls. "This Saturday was our move-in day to move our kids back into our shelter, four months since the assault upon them.
"It was a tough day to have an earthquake," he says.
To learn more about Chanje/The Global Mission, go here
Related: Profile of Dave Brodsky