By Mark Ellis —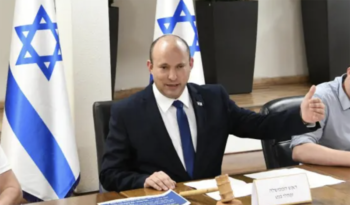 Israel's Prime Minister Naftali Bennett said the efficacy of the Pfizer vaccine against the Delta variant is "weaker" than health officials had hoped, with over 1,000 people in Israel testing positive for coronavirus, according to the Jerusalem Post.
As of March 2021, at least 50% of the Israeli population had received both doses of the Pfizer vaccine under a special arrangement with the pharmaceutical company. Israel has one of the highest vaccinated population per capita in the world.
"We do not know exactly to what degree the vaccine helps, but it is significantly less," Bennett told the Post.
He noted that in Britain they have seen a jump in the number of children being hospitalized on a daily basis. "This is a development that we are aware of; we are dealing with it rationally and responsibly," he said.
The highest number of coronavirus cases in nearly four months was diagnosed on July 16th – 1,118 people, according to the Health Ministry.
"Of those screened, 1.58% tested positive. The reproduction rate (R), the number of people a sick person infects, stood at 1.37 – meaning that Covid-19 is spreading again," the Jerusalem Post noted.
While there has been an increase in daily cases, the death rate has not increased significantly. "Of those infected, some 58 were in serious condition, according to the ministry – an increase of six people over the weekend."
In April, there were 370 patients in serious conditions. "The likely explanation is that among current virus carriers, about 2,000 are schoolchildren, and half of them were fully vaccinated. Both groups are very unlikely to develop severe forms of the disease, even though it occasionally happens."
About 60% of the patients in serious conditions at the present time have been vaccinated.  About 90% of newly infected people over the age of 50 are fully vaccinated, according to Hebrew University researchers.
The "percent of cases that turn critically ill is now 1.6%, compared to 4% at a similar stage in the third wave when there were no vaccines," Prof. Eran Segal, a computational biologist at the Weizmann Institute of Science, tweeted on July 16th.
Even if cases continue to increase, "many more cases will be needed than in the third wave to reach similarly high numbers of critically ill patients in the hospitals. This will contribute significantly to population-level immunity."
Update 7/23/21:
Data from Israel suggests Pfizer Inc.'s vaccine has become less effective in preventing infection of Covid-19 in recent weeks, although it remains a robust bulwark against serious illness as governments around the world scramble to respond to the rampant spread of a new Delta variant of the coronavirus
The findings, which are preliminary and based on a small sample, suggest that after two shots the vaccine was 39% effective at reducing the risk of infection and 40% effective at reducing the risk of symptomatic disease during a period when the Delta variant dominated cases in Israel, according to the country's Health Ministry. The vaccine was 91% effective at preventing severe illness in the same period between June 20 and July 17, the ministry said. — Wall Street Journal