By Mark Ellis –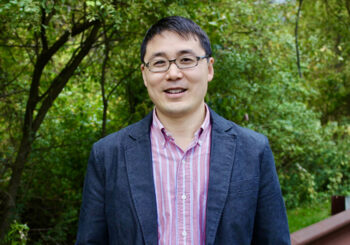 Sean Song and his wife Ruth were born in China and came to the U.S.in 2002 to complete their graduate studies.
"In 2006, I married my wife, and like many other Chinese couples, we had every intention of building a family," he told the Elijah List.
Instead, they experienced the pain and heartache faced by many infertile couples. "By 2015 we approached 10 years of barrenness. We wanted a child, but we simply could not have one."
They traveled to many Christian conferences seeking answers, receiving prayer, hoping and trusting in God for divine intervention.
Sean attended an Elijah List conference in early 2016. He heard Pastor Dutch Sheets declare, "Today, you came here not by coincidence. It is God who leads you here and from today on, you will hear God speaking to you like you never have before."
Sean pondered the pastor's words during his lunch break. He strolled over to a nearby Christian bookstore, sat down outside, and his eye caught a Peanuts calendar sitting on display.
The cover said, "Peanuts 2016 Family Planner."
At that moment God impressed on his heart: 2016, plan your family; you will have a child this year.
"I was astonished! I had never heard God speaking to me so clearly, and He just said I was going to have a child that year! I immediately called my wife and she encouraged me to buy the calendar as a memorial."
Sean went back to China to visit his family the following month. "My mother, who still worshiped Buddha, had been desperately praying to all kinds of idols to help us have a baby. I had been trying to preach the Gospel to her since 2003, but with trivial effect."
As the months went by, Sean and Ruth continued to wait on the Lord. Beginning to lose patience, Sean cried out to the Lord in desperation: "I have prayed to both the Father and Jesus many times and I do not know when this pregnancy is going to happen. Can you ask the Father and Jesus for me when this will happen?"
That night Sean had a very unusual dream.
In the dream, he saw a woman point toward the back of a man he identified as Jesus. She said to Sean, "Did He not tell you that you will have a child next month?"
A few weeks later, on May 28, 2016, Sean received a text from Ruth that read, "You have won the lottery!"
"My wife found out that she was miraculously pregnant! Our miracle baby girl, Elim, was born healthy and beautiful in early 2017."
"This leads to the next miracle: My parents were astonished with this miracle of our baby and they both accepted Jesus as their Savior."
If you want to know more about a personal relationship with God, go here
For more from The Elijah List, click here