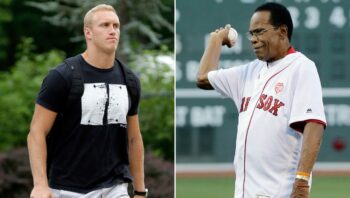 By Michael Ashcraft —
Little Ed Mylett was still smarting from a humiliating performance at the eighth grade basketball championship game earlier in the day. That evening, he was hitting line drives — his true love – into center field.
He was holding the bat flat and swinging choppy like his hero, baseball legend Rod Carew, when he heard a voice from behind the backstop: "Who's the little lefty? I like this kid's swing."
Ed glanced back. It was #29 himself, Rod Carew, MLB's hitting maestro for 19 seasons. Ed was starstruck.
"Hey, kid, how would you like me to work with you and train you? Can you make it to my batting cages every Tuesday night?"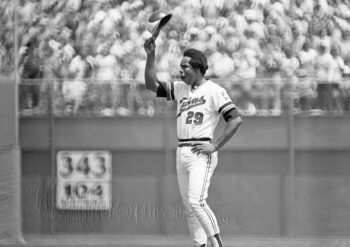 "Yes sir," Ed stammered.
In the following months, Rod altruistically gave of himself and mentored 8th-grader Ed Mylett, as he did selflessly with hundreds of other talented young people throughout Southern California. Not only did he provide technical expertise, but he also spoke words of confidence into the kids' lives.
Rod is a born-again Christian. His generosity eventually proved the Bible's admonition, "Give, and it will be given you, good measure, pressed down, shaken together and running over will be put into your lap." (Luke 6:38)
One of those hundreds of kids saved Rod's life, Ed says on his Aug. 24, 2017 Elite Training Library video.
In September 2015, Rod suffered a massive heart attack on a golf course. Golfing by himself, he was on the first hole at the time. He drove his golf cart to the clubhouse and someone called paramedics.
"The only thing I remember after that was facing the paramedic, and he had a glow around him," Rod told the L.A. Times. "He was there with the paddles and says, 'Let's go, damn it, we're losing him!' Then, I was gone."
Carew's heart stopped beating twice. He suffered a heart attack nicknamed "the widow maker," because few people survive their ambulance ride to the hospital.
"It was a good thing I was at the first hole," Rod says, "because if I was at two or three, they would have found me out there dead."
In December 2016, he received a heart transplant (and a kidney) donated by an NFL Baltimore Ravens tight end, Konrad Reuland, who died suddenly of a brain aneurysm. As a teenager, Konrad met Rod 15 years earlier at a middle school basketball game.
It's the first time an anonymous organ donation happened between families who knew each other – and the first time a heart has gone from one professional athlete to another, according to OneLegacy, the organ donor procurement network.
Rod Carew was born in Gatún, Panama Canal Zone, in 1945. His mother was a Christian and his father was a violent drunk.
When he was 11, Rod nearly killed his father in revenge for the abuse; when his dad was asleep, he grabbed his machete and was about to chop him up when his mom walked in and reminded him what he was living for, what he would lose if he did something rash.
"Baseball and God," she said, as related by Rod on Religion Unplugged.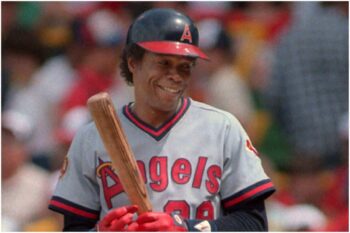 "I dropped the machete and ran out of the room. I could've been in a lot of trouble during that experience. But my mom once again saved me."
While other kids were playing baseball, Rod had to go to church with his mom. He was baptized Episcopalian as a child.
At age 14, Rod immigrated with his mother to New York City, where he was scouted by the Minnesota Twins and offered a contract. After two years in the minors, he debuted in the Majors in 1967 by, of course, getting on base on his first at bat. Ultimately, he was named American League Rookie of the Year.
Thus began a long and prolific tenure of blasting balls to get on base. In all, he got 3,053 hits and maintained a career-long .328 batting average. The second baseman was elected to the Hall of Fame in 1991. He transferred to the Angels in 1978, where he retired eight years later and settled into coaching.
Because he married a Jewish wife and wore a Jewish pendant on his necklace, some observers assumed he had converted to Judaism, but he confesses to Religion Unplugged that though he attended synagogue, he never finalized his personal decision.
"At one time I was going to convert. And I kept putting it off and putting it off because my daughters were raised in a Jewish faith," he says. "So I kept putting it off. I wasn't sure if I wanted to do it or not. Eventually, I decided not to. I didn't want to feel like I was giving up something by changing my religion."
Instead, he reaffirmed his Christian faith with his second wife, Rhonda, with whom he re-baptized in 2010 at Saddleback Church in Lake Forrest, CA.
"I was so comfortable with God — talking to Him and expressing the things I was going through as a kid. I would ask Him questions — like, 'What's in my future?' — and just little things like that that a growing little boy wants to know," Rod says.
"And I knew that when He created me that He already had my life planned out. And so, when I had doubts about anything, I always would say, 'Father, please just be there for me.' And it seems like He answered all my prayers."
He had been given great skill and opportunity, so he wanted to give back to the community. For no pay, he scouted and mentored kids like Ed Mylett, who now is a life coach to celebrities and pro athletes, in addition to running a financial services business.
Ed says he wouldn't have succeeded in college baseball and in life if it had not been for Rod's encouragement. He had failed two free throws, thus sending his eighth grade team to its loss in the final. So he was smarting over his failure the day he met Rod.
Is it any wonder that God rewarded Rod with a heart from one of those kids?


"I knew that God gave me an ability to do something that a lot of people couldn't do or can't do. And with that ability, He wanted me to work at it," Rob said. "Just don't take it and do nothing with it. If my Father gives me good health, I'm going to play and play hard for Him. I never set goals during my career, but it was all up to Him and Him giving me great health."
If you want to know more about a personal relationship with God, go here
In his other life, writer Michael Ashcraft is a Christian financial professional selling insurance and annuities in California, Nevada, Arizona and Nebraska.