By Ben Lahood —
Bima, 9, received free tutoring after school in a poor village getting the gospel in Indonesia.
Part of the Christian sponsored program, Orphan's Promise, showed kids cartoons of Bible stories. That's where Bima heard about David and Goliath.
"Goliath said to David that he would cut David to pieces," Bima says on a 700 Club video. "But David said to Goliath, 'You came to me with a sword and a spear, but I will fight you with the mighty name of God.'"
And Bima got saved.
"Lord Jesus," he prayed. "I want you to be my Savior."
Immediately, he prayed for the salvation of his family, composed of nominal Muslims.
Bima started behaving better at home and read his Bible at home. This piqued the curiosity of his mother.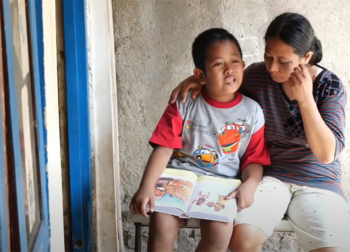 "One day I got sick," his mom says. "Bima prayed for me. The next day I was healed and able to work again. God showed me that He is real. Bima challenged me to have faith in Jesus."
During Covid, the tutors continued via cell phone with extra-curricular lessons and Superbook animation. Orphan's Purse also supplies basic food to poor families like Bima's.
Aware that programs like Orphan's Purse are paid for by Christians in America and elsewhere, Bima sends words of thanks.
"Through their help, I am now a new person, and I am happy," Bima says.
If you want to know more about a personal relationship with God, go here
Ben Lahood studies at the Lighthouse Christian Academy on the Westside of Los Angeles.