By Mark Ellis –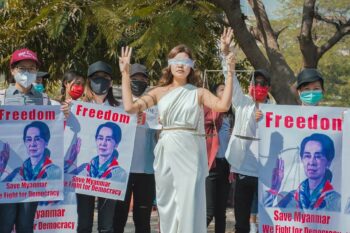 Anti-coup protesters have called for a "silent strike" to further pressure the military government, which seized power February 1st. Since then, more than 400 civilians have been killed by government forces, including 114 Saturday.
"Our future is uncertain in this critical time. There may not be much to see in western media reports because of internet control and local media being controlled by the military regime," says Brother Thomas*, a pastor in Myanmar (Burma).
Last week, mobile internet data was shut down and the military arrested at least 40 journalists in their efforts to control communications, according to Thomas.
"The military leaders ordered firing on peaceful protesters on the street, and still the protest movement is going on in different cities, but not like before (not hundreds of thousands of people protesting on the street).
Every day Pastor Thomas hears of more deaths, including Christians. "Many people have been injured and about 3000 people arrested. Yesterday, four young protesters were killed by the military (three were Christians), and six people injured critically. That`s really changed our daily living."
Myanmar is about 78% Buddhist and 8.2% Christian, due to the pioneering missionary work of Adoniram Judson in the 1800s, which impacted the Karen and Kachin people groups. Christianity is growing at about 2.5% a year, according to the Joshua Project.
"Despite military threats, arrests, and brutal acts, the Civil Disobedience Movement (CDM) is increasing among police, government workers and among banks, which is really hindering the military regime," Pastor Thomas reports.
"Yesterday was the day of the "Silent Strike" to protest the military coup. Most of the shops and markets were closed and no vehicles were on the street in the whole country. Bank services have been closed since last month," Pastor Thomas says.
The strike includes rail workers, doctors, bankers, and factory laborers, in an attempt to impede Myanmar's economy, sow division in the ranks of the military and deny it legitimacy, according to news reports.
"Over a thousand people have fled to Mizoram State, in North East India as refugees," he adds.
He says elected MPs from the former parliament are planning to form an opposition army which will collaborate with ethnic armed forces and young protesters throughout the country. "It seems we may be headed toward a big civil war unless the military stops ruling and returns power back to elected government," he says.
"Our situation may be becoming more worse unless God or the U.N. intervenes. Thank you for your prayers."
*name changed for security reasons