By Ben Lahood —
He lived in America, she in South Africa. He fell into depression. She thought he was cute on Facebook and sent a friend request. God brought them together to get married.
"I was actually struggling with severe depression and I was seeing a counselor for two or three years and I remember just losing interest in the things that I loved," Christian says on his YouTube channel. "I was in my car and I just said a little prayer to Heavenly Father: 'What can I do to get out of this depression?"
He felt like he needed a vacation. Oblivious to Ziya's friend request which he ignored for weeks, he selected his vacation location: South Africa.
"I honestly thought he was really really cute. I sent him a friend request" on Facebook, Ziya says. "He never accepted my friend request, so I decided to delete my friend request because I was a little bit embarrassed."
Months went by. Christian says he wasn't ready for Ziya. But as his vacation to South Africa approached, he happened to notice her message in Facebook to see if he wanted to be "friends." He sent her a friend request in August 2018.
"I looked at her profile and gosh dang that's a beautiful girl wow," Christian says. "She was absolutely stunning."
When Ziya saw his friend request, she was flattered and pleased. The two started chatting.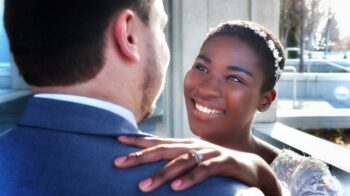 "I was crushing on her so much," Christian admits. "She was so fun to talk to. She was funny. We could talk about anything. We talked about each other's families, each other's interests. We both love sports, love soccer. It was just perfect. It was too good to be true."
For her part, Ziya kept a poker face, but inside she felt very attracted. She asked if marriage could happen.
"I knew this was a guy I wanted to be with, but I didn't know how because he was halfway across the world," Ziya shares. "I was in the other part of the world and it seemed so impossible. I knew that I was falling in love with him."
It seemed natural, since he was going to visit her country, to meet up with her in person. She lived in the city of George, so Christian and his brother scheduled a visit.
In November of 2018, Christian and Connor landed in Johannesburg. Their first activity was diving in the shark cage, which was exciting. But all the while, he kept thinking about Ziya.
"I was so nervous and excited at the same time," Christian says. "I kind of wanted this stuff to just be done with this, so I could go see her."
But as Christian was looking forward to meeting her, Ziya grew anxious. She didn't want to appear overly eager. She also worried he might break her heart.
The date was set for 1:00 p.m. and Ziya didn't show up.
"I was thinking that I didn't want to get hurt," she explains. "I was protecting my heart. This guy's from America and he's coming here. What if this is the last time I was going to see him? I didn't want to put myself in that position."
After four hours of waiting and texting her, Christian drove over to her house.
"I saw her walking down the street," Christian remembers. "My heart, my heart pretty much stopped beating. I was so nervous. I was shaking and I pulled up right next to her and I was like, 'Hey.'"
She got in the car. They went to pizza.
I wanted to hug her so bad," Christian remembers. "Then she just kissed me. I was taken back like crazy. I'm like, this girl just ghosted me for four hours and then she started kissing me. But oh wow fireworks. Then the butterflies started."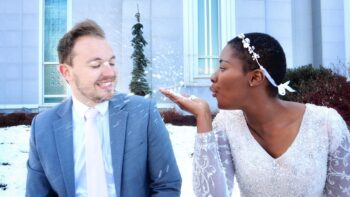 They held hands at Domino's. In South Africa, a nation once held in the racist grip of apartheid, people were startled by the romantic interracial couple.
"People were staring at us, like, 'What's this? What's going on here? What's this white guy and black girl? What are they doing?'" she remembers.
After pizza, there was a movie and bowling.
The romantic texts and calls turned into romantic moments together.
One day led to another. They spent the vacation time together. Connor was with them.
It was obvious they wanted to get married. When Christian's vacation ended, he returned to America. Immediately, he set out to plan the wedding, which was no easy matter because it involved immigration laws.
The title of the series of three videos chronicling their courtship is "When God writes your love story."
If you want to know more about a personal relationship with God, go here
Benjamin Lahood studies at the Lighthouse Christian Academy near Venice, CA.