By Ryan Zepeda —
At age 12, Rachael Havupalo was lured into a compromising situation by two boys and raped. It was devastating.
"I felt like so dirty," Rachael recounts on a CBN video. "I felt so defiled. And I felt like all the innocence that I ever had was taken from me. It crushed my heart. It broke my trust in men and of people."
Eventually, the culprits were captured and punished. But this provided no solace for Rachael, who suffered internal agony.
At 14, she began cutting herself and picking up Gothic dress and lifestyle. She dabbled in Wicca and fantasized about death.
"On the inside I felt so dead and so numb," she says. "I just really wanted to die."
All through her teens and 20s, Rachael used drugs and did time in prison for her addiction.
At age 21, she had a little girl and became a single parent. She had a brief marriage that ended in divorce, then lost custody of her child.
Sadly, her response to the trauma was to self-medicate with meth.
"My heart was really broken," says Rachael. "There was an emptiness that came that's indescribable."
One day, she visited a "friend," who locked her in, drugged her with heroin and raped her for three days.
"Any amount of peace I had in my heart and any hope that I had of anything that would ever get better was completely taken away," she says. "I was so terrified and I asked God, 'Please, please God, don't let me die.'"
She was released from the kidnapping and began to dial up her cutting.
"I sliced through my arm with a knife," Rachael says. "It was a way to release pain and the bottled up emotions that I was feeling. I didn't know how else to get it out, so I would cut myself."
Finally, she came to the end of her rope. She realized that none of her coping mechanisms were working.
"God, please help me," she prayed. "I need a miracle. I need you to send your angels to help me. There's no way out of this situation except if you help me, God. And I'm sorry for fighting against you all my life.'"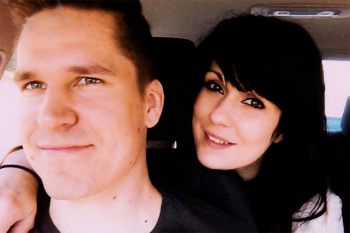 In response to the prayer, God sent someone who invited her to church. She met a couple there who told her about Jesus and that she needed to put her trust in him.
"I confessed that I was a sinner and that I needed Jesus," she recalls. "And that I needed Him to come and take over my life. I surrendered everything to Him."
She was born again!
She still needed deliverance, however, from years of abuse. At the church she met Scott and Sandy Boyd, who spent the next month helping Rachael find freedom in Christ.
"They led me through several renunciation prayers to renounce drugs, alcohol, paganism, all of that stuff, just to renounce things. It was a process."
As part of her process to freedom, she had to forgive the men who have victimized her.
"I need God's forgiveness and so I'll forgive," she decided.
Deliverance came.
"It was like I was a totally different person and I could breathe. This was my moment of like I am a new creature. Like I am a new being. And I have a whole new life like in front of me. And things just started to change," says Rachael.
Today, Rachael is raising Ivy with her new husband Miika, pastoring in Finland.
"I never started living until I met Him (God)," she says. "His love – it really does change everything. He takes the most broken, impossible, hopeless mess and He can turn it around into something beautiful."
If you want to know more about a personal relationship with God, go here
Ryan Zepeda studies at the Lighthouse Christian Academy in Santa Monica, California.