By Mark Ellis –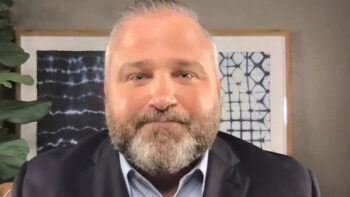 He is one of many pastors taking a stand against "tyrannical" governors imposing unreasonable lockdowns and restrictions on churches that many contend have violated the First Amendment.
"I am telling our congregation we will never close the doors of the church of Jesus Christ again," Pastor Brian Gibson told Newsmax. "They will have to take us out in cuffs. We're going to worship Jesus.
"Our billboards around the city say, "Nobody cancels Christmas."
Pastor Gibson and his wife, Jessi, planted River City Church (now HIS Church – Owensboro, Kentucky) in 2005. Since then, the church has grown to over 1,000. Last year, they merged with Victory Church in Amarillo, Texas. Their goal is to plant 100 more churches before they turn the keys over to the next generation.
"They tried to cancel Christmas when Jesus was born and Herod tried to kill him," he noted. "There is only one person who has the authority to shut down the church of Jesus Christ and that is Jesus Christ himself."
Pastor Gibson was one of the leaders of a March for Trump bus rally that concluded December 12th in Washington D.C., with many impassioned pastors calling on other Christian leaders to take a stand for liberty by keeping their church doors open.
"America did not birth the church. The church birthed America. It's in our DNA. It's in our founding documents. America loves Jesus. Jesus is Lord and if you shut down the church you're taking the heart out of America, taking the backbone out of America, the truth out of America," he declared.
Pastor Gibson is inspired by ministers in the early American colonies who took part in the Revolutionary War. "The guys who helped birth this nation are called the black-robed regiment. They are the preachers who pastored all the founders and framers of the constitution. When Paul Revere rode saying, 'The British are coming,' he was riding to his pastor's house.
"These men, the black-robed regiment, didn't just preach and lead their flocks. They actually led them into battle. Many of them distinguished themselves on the battlefield.
"Put on the black robe, not the yellow robe," he declares.
He noted that the governor of Kentucky directed criticism toward churches as super spreaders, but failed to mention big box stores, which continued to operate.
"We started pushing back against that and that's how I got into this, to open up churches around America. One of the first things in the First Amendment is the protection of religious liberty."
"We're not going to bow our knee to Caesar anymore. We only bow our knee to Christ. This is America. You're not going to cancel Jesus, the message of Jesus, and you're not going to cancel Christmas."
To learn more about upholding the free exercise of religion or to seek legal advice, go here