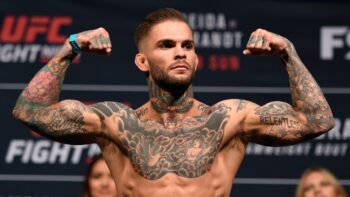 By Rudee Becerra —
Once, Cody almost sliced off his brother's finger with a knife. On another occasion, his brother punched his ear so hard, it swelled and became a "cauliflower ear." Another time, they took their squabble outside city limits where they wailed on each other for 45 minutes. This is how Cody Garbrandt became an MMA champion.
But he almost lost a battle with depression until the same brother intervened.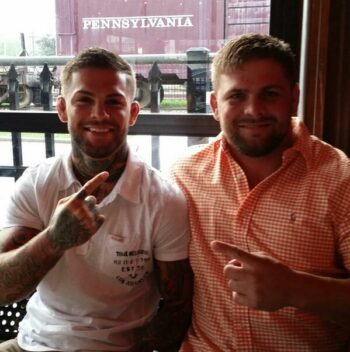 "I almost hung myself," Cody says on an I am Second video. "He busted down the door and came in and saved my life. He gave me the biggest hug and sat there with me and cried with me. He said everything was going to be all right. That day was a changing point for me in my life. That brought us even closer, you know, attending church together."
Cody grew up in the Appalachian mountains of Ohio in small towns where people are as proud of their hometowns as they are poor in the economically depressed areas of Uhrichsville and Denison.
Fighting is a way of life there — especially for the Garbrandt family.
"From both sides of my family, we were fighters." Cody says. "We had a last name to uphold. Oh you're from Garbrandt clan or the Mease clan. You don't mess with those guys."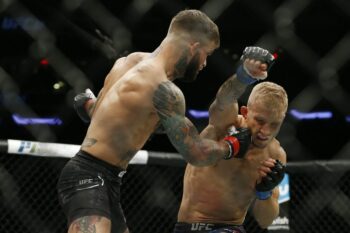 He watched his uncle fight, while his grandfather, drunk in the stands, fought with a spectator.
"We'd just be sitting there watching it," he remembers. "That was normal for us."
Since fighting was "normal," Cody and his brother Zach made grappling a normal part of sibling rivalries.
"Out of the womb, I was fighting over the bottle," Cody jokes. "Zach was my fierce competitor. My brother was always bigger, stronger, faster, meaner than me growing up, so that's why I was always quick to fight: I had something to prove.
"Me and Zach, we fought so many times in our lives. We had some pretty violent fights."
Once when Zach provoked him to punch him, Cody grabbed a knife in the sink and slashed him, nearly cutting off his middle finger.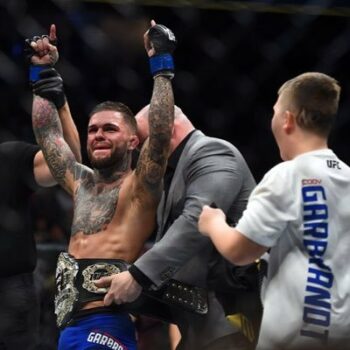 "I remember he looked at me, wrapped his finger in a paper towel, punched the stove and shattered the whole glass stove and went back to bed," Cody remembers.
In their last fight, Cody was 17; Zach, 18.
"We ended up fighting over a Subway sandwich," he recalls.
After Grandma intervened to stop, the brothers jumped in their cars and drove to "the pump house."
"That's where we would take out-of-towners to fight," he says. "We would take them out of city limits where cops wouldn't go."
The fight lasted 45 minutes.
"It was always a knock-out, drag-out fight with Zach," he says. The fights were so fierce it was possible someone might die.
"My knuckles were all cut up, my lip was bloodied, my teeth were all busted up," he says. "I hit with a right-handed, overhand right. He had the stanky legs like he was walking in potholes. He looked at me with this crazed look, like, 'Alright, awesome. Cody finally hit me with a nice shot that hurt me."
That was their brand of brotherly love.
"He's been my best friend," he says. "I'm so grateful for all the fights, all the thumpings we got into that made me who I am today."
Cody debuted as a professional Mixed Martial Arts fighter in 2012 and has an 11-3 record. In 2014, he signed with Ultimate Fighting Championship where he won a string of victories.
However, his biggest fight ever was outside of the cage. It was his fight with depression. It happened during his senior year of high school. His mom tried to divert the brawling brothers from killing each other by putting them in wrestling.
"Wrestling was my entire life," he says. "I wanted to be state champion again. I won as a freshman. I got beat as a sophomore. I was injured as a junior. When I couldn't win, I felt unaccomplished and started hanging out with the wrong crowd. I started doing some drugs and partying — kind of living super carelessly.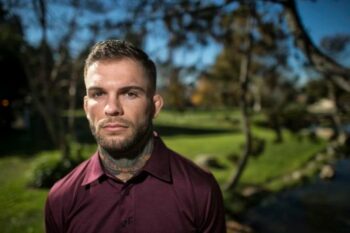 "I felt like my road was running to an end," he remembers. "For a while, I wasn't who I was. I was in a very, very dark place."
That was when he tried to commit suicide.
Who was it that saved him? The same guy he fought with so fiercely, his brother.
"I've never been so grateful for him, he came and busted down the door and gave me the biggest hug," he says. "He told me everything was going to be alright."
They attended church together. His ultimate rival was also his ultimate supporter.
"It was nice to be in church with my big brother, worshiping God and learning and growing towards Him," he says. "That was the start of my growing relationship with the Lord. I understood that God sometimes carries you through this life.
"Surrender is a foreign word to many fighters," he adds. "It was definitely a foreign word to me in my life. But there's a time and a place that you do need to surrender. I'm always thankful that I'm able to surrender to Him."
If you want to know more about a personal relationship with God, go here
Rudee Becerra studies at the Lighthouse Christian Academy in Los Angeles.