By Mark Ellis –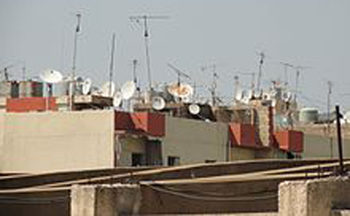 Several years ago, an Iranian man named Hani* had a vivid dream, in which a man clothed in brilliant white appeared to him and said his name was Jesus Christ.
Later, Hani was flipping through the channels on his TV and was startled to hear that name, Jesus Christ, according to a report by SAT-7. He had stumbled upon Christian programming beamed into Iran via satellite by SAT-7 in the Farsi language.
When he heard the name of Jesus he instantly recognized they were talking about the same person in his dream.
With growing fascination, he began watching the station regularly to find out more about Jesus. Drawn by the Holy Spirit and the power of God's Word, he called SAT-7's counseling center several times.
On one of those calls, he prayed to receive Jesus as his Lord and Savior and was born again.
He hid his newfound faith from his wife because they lived in a remote area in which many of the people were ardently opposed to Christianity, according to SAT-7.
But she could not help but notice something about him had changed. "Hani, what has happened to you?" she asked. "You are different."
Finally he broke down and told her what occurred and urged her to watch the same programs he had been watching.
She began viewing the programs and also was born again! A few others followed their lead and began watching the Christian programs with them. Soon they too became followers of Jesus!
"Now there were seven new, isolated believers meeting in their home," according to SAT-7. "But they were surrounded by hostility, fearful of reprisals if their new faith was made known."
They continued to worship in secret, behind closed doors. They also began to hunger for their own copy of the Bible. Hani called the station and asked if there was some way he could receive the Scripture.
"Believers can't find Bibles in Iranian book stores or libraries. Even the few long-established, registered churches cannot give them out. And you can't mail Bibles into Iran as they are routinely confiscated," according to SAT-7.
A volunteer from a local church stepped in to help and endured a 20-hour hot, dusty bus ride to deliver a Bible.
When he got off the bus he was not only met by Hani, but the others who had come to Christ. "He explained that they were all new believers and had formed a secret, home fellowship group. They were so grateful to receive a Bible that they could study together."
Then Hani explained the wonderful story of how one believer, impacted by a dream, and through the faithful witness of Christian programming, had found faith – along with seven others.
If you want to know more about a personal relationship with God, go here
To learn more about SAT-7, go here
*name changed