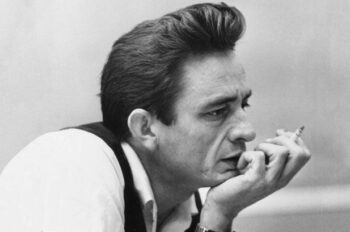 By Zach Catalano —
In 1944, Johnny Cash's much-loved older brother got pulled into a table saw that nearly cut him in half. After lingering between life and death for a week, Jack tragically passed away. The 11-year-old Johnny was plagued with guilt because he had premonitions and failed to warn his brother.
The troubling tragedy set the tone for the tortured singer's entire life.
With more than 90 million records sold, 1,500 songs written and 24 #1 hits, Johnny Cash is easily one of the most famous musicians in the world. The man who wore black, sang country music and got ensnared by amphetamine and barbiturate abuse would ultimately side with God at the end of his life.
"I am not a Christian artist," said the man who reignited his career by singing concerts in prison. "I am an artist who is a Christian. There is a spiritual side to me that goes real deep, but I confess right up front that I'm the biggest sinner of them all."
Johnny Cash was born Feb. 26, 1932 into a family that received farmland under the New Deal in Arkansas. He was raised on Gospel hymns and joined the U.S. Air Force out of high school even though his dream was music.
He married Vivian Liberto in 1954, but she divorced him 12 years later because of his alcohol and drug abuse, constant touring, and infidelities.
In Memphis he signed for Sun Records in 1955 and made such hits as "Hey Porter!" and "Cry! Cry! Cry!" His bass-baritone voice, train-sound guitar rhythms and rebelliousness mixed with a somber and humble demeanor won the hearts of Americans.
With his notorious free prison concert at San Quentin in 1958, Cash exploited his outlaw image to catapult to even greater fame. His record "Folsom Prison Blues" hit #5 country music in the nation.
As his career soared, so did his abuse of alcohol and amphetamines, which he consumed to stay awake on tour. He also used barbiturates to sleep. Though his life was careening out of control, his musical genius continued to produce at an admirable clip.
In 1965, Cash accidentally started a forest fire that torched 508 acres in Los Padres National Forest, a habitat for the California Condor, which was on the endangered species list. Cash said the fire was caused by sparks from a defective exhaust system on his camper, but his nephew Damon Fielder who was with him at the time stated that Cash lost control of a campfire because of drug use, according to Wikipedia.
Ultimately, he was sued by the federal government for $82,001 for his negligence.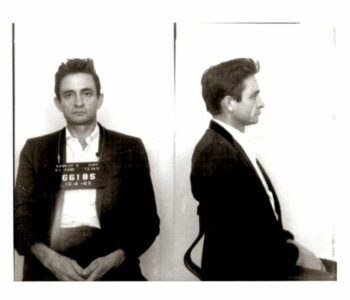 It wasn't his only brush with the law. He landed in jail on seven different occasions for misdemeanors but always was released the next day.
Reportedly, he descended into Nickajack Cave in Tennessee to die because of despondency related to his drug addiction. Once in the deep recesses of the cave, he remembered the God of his childhood, had an epiphany and struggled back to the entrance of the cave.
Cash, had an affinity with the underdog: the poor, Native Americans, prisoners, and others. He always took a stand against oppressors such as the Ku Klux Klan, whom Cash once threatened with 40 lashes from a snake whip.
He usually beat the odds stacked against him.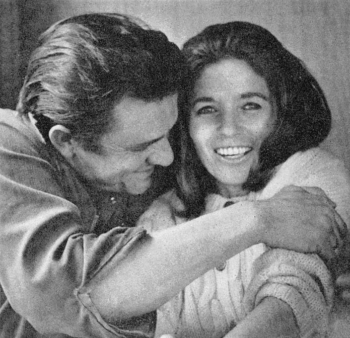 In 1969, he remarried to fellow musician June Carter, who consented only if he would straighten up his life. June toured with him constantly.
For the next few years, his success was such that he had his own television show on ABC, which featured such stars as Neil Young, Louis Armstrong, Neil Diamond, Kenny Rogers, Roy Orbison and Bob Dylan.
On May 9, 1971, he answered an altar call at Evangel Temple, an Assemblies of God church in Nashville.
"I used drugs to escape, and they worked pretty well when I was younger. But they devastated me physically and emotionally and spiritually," Cash said. "They put me in such a low state that I couldn't communicate with God. There's no lonelier place to be. I was separated from God, and I wasn't even trying to call on Him. I knew that there was no line of communication. But He came back. And I came back."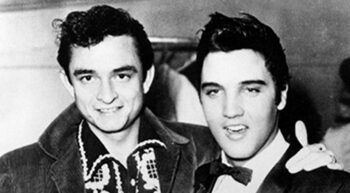 He made friends with Billy Graham and was drawn closer to Christ. This led to Cash's production of a film about the life of Jesus, The Gospel Road, which Cash co-wrote and narrated, in 1973.
"I am evangelical," he told Relevant. "And I'll give the message to anyone that wants to hear it, or anybody that is willing to listen. The gospel of Christ must always be an open door with a welcome sign for all."
In 1980, Cash became youngest inductee into the Country Music Hall of Fame at 48. In the mid-1980s, he joined The Highwaymen and made three hit albums.
In 2003, his beloved wife, June, passed into the arms of her Savior. Four months later, Cash followed her into eternity, but not without recording more songs. He wrote 60 songs in those four months.
"Being a Christian isn't for sissies," Cash said. "It takes a real man to live for God — a lot more man than to live for the devil, you know? If you really want to live right these days, you gotta be tough."
If you want to know more about a personal relationship with God, go here
Zach Catalano studies at the Lighthouse Christian Academy in West Los Angeles.