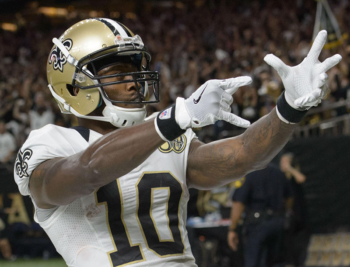 By Bryan Gutierrez —
Nicknamed the "Archer," Rams wide receiver Brandin Cooks celebrates touchdowns by mimicking a bow and arrow shot as a reference to the Bible.
"It's just another way to be able to glorify God rather than just pointing to the sky," Cooks says in Sports Spectrum. "Just bringing a unique way, so my hope is when fans see me, they see God in me. That's the biggest part of it all. If anything, I'm shooting it at God. It's my way of thanking him and bringing a little twist to it."
Cooks alludes to Psalms 144:6: "Send forth lightning and scatter the enemy; shoot your arrows and rout them."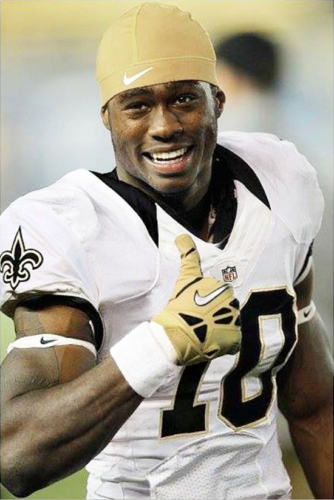 A devout Christian, Cooks shoots plenty of scriptural arrows through social media.
"Our struggle is not against flesh and blood, but against the rulers, against the authorities, against the powers of this dark world and against the spiritual forces of evil in the heavenly realms. Whatever you do walk with boldness, and know you are fully equipped," he tweeted recently.
Cooks was born on Sept. 25, 1993 in Stockton, California, and lived there with his father, Worth Cooks, and mother, Andrea Cooks. His father died of a heart attack when he was only 6-years-old so Wayne and his three brothers were raised by their mother.
He began to show promise in football playing for Stockton's Lincoln High School. He grabbed 141 receptions for 2,508 yards and 28 touchdowns, which ranked him the 26th-best wide receiver and the 240th overall prospect in his class, according to the Recruiting Network.
Cooks then attended Oregon State University, where he caught 226 receptions for 3,272 yards and 24 touchdowns. As a senior, he was drafted by the New Orleans Saints in 2014. In Cooks' first career game, he made seven receptions for 77 yards and a touchdown.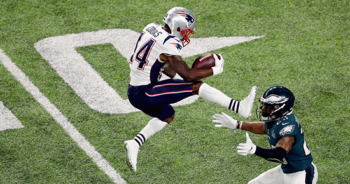 This made him the youngest player, at 20, to catch a touchdown pass in the NFL since Reidel Anthony in 1997. As he closed his first season, Cooks had 53 receptions gaining 550 yards and three touchdowns before injuring his thumb in Week 11 against the Cincinnati Bengals.
In 2015 Cooks began the season as the #1 wide receiver for the Saints. In the Week 5 game against the Philadelphia Eagles he received over 100 yards in one game for the first time in his career. His five receptions totaled 107 yards and a touchdown.
In April 2017, the Patriots picked up Cooks' contract, and in his debut game in September, Cooks made receptions for 88 yards. He became QB Tom Brady's favorite target and ended his season with 65 receptions for 1,082 receiving yards and seven touchdowns. His outstanding performance led him to the Super bowl.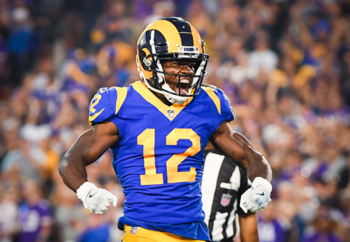 In April 2018, the Patriots traded Cooks and a fourth-round draft pick to the Los Angeles Rams. He signed a five-year, $81 million extension with the Rams, including $20.5 million guaranteed. He also reunited with his former Oregon State teammate Sean Mannion.
"Brandin Cooks has shown himself to be a class act on and off the field since the first day he joined our team," says Rams coach Sean McVay on the NFL website. "He's a proven professional in this league and signing him to a long-term contract was always our goal."
Cooks is currently heading into the playoffs with the Rams.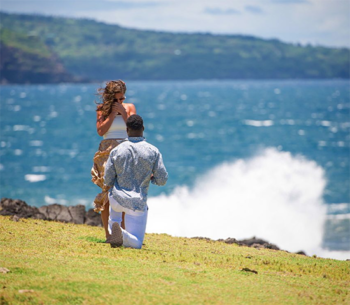 For Cooks, the bow and arrow gesture is similar to pointing to the heavens or dropping a knee.
"It's one of those things that keeps me honed in and keeps me humble through the success and the gifts that I've been given," Cooks says in the New Orleans Advocate. "I think it's a pretty cool way to give God the glory in a different way, and for other people to see it and buy in."
To know more about a personal relationship with God, click here.
Bryan Gutierrez studies at the Lighthouse Christian Academy in Los Angeles.