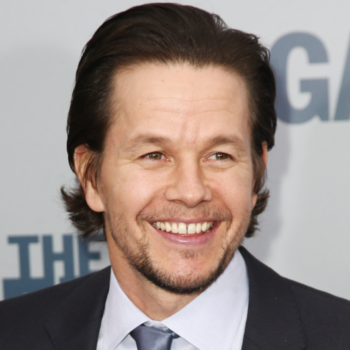 By Zachary Catalano —
His parents were always working and left him unsupervised, so Mark Wahlberg took to the streets and found drugs, racism, crime — and jail.
For beating mercilessly two Vietnamese men at age 16, he was tried as an adult for attempted murder. He pleaded guilty to assault and was sentenced to two years in prison. He ultimately served only 45 days of his sentence, but carries a permanent felony record.
"When I heard the jail doors close behind me … I knew that was just the beginning for me," he says. It was the beginning of a life in crime or the beginning of a fresh start, if he turned his life around.
Wahlberg, famous for acting in Transformers Age of Extinction, turned to God and to his Catholic priest to help straighten out his life.
"I should be in a lot of places and it should not be here, so trust me, God is so good," he says. "Thank you Father."
Wahlberg goes to church for at least 15 to 20 minutes daily and also prays every day, allowing him to begin each morning with a clear outlook and avoid negativity.
"Faith keeps me focused, patient, calm, happy and gives me joy," Wahlberg said in an interview with Walter Scott. "I start and end my day in prayer. It keeps me grateful, humble, hungry, committed to trying to do more and be more positive. It is the reason for everything good in my life. If I can start out my day saying my prayers and getting myself focused, then I know I'm doing the right thing. That 10 minutes helps me in every way throughout the day."
Wahlberg, the youngest of nine children, starred in Daddy's Home, Planet of the Apes and Boogie Nights. In 2006, he earned a nomination for the Academy Award for Best Supporting Actor for his roll in the neo-crime drama The Departed. Recently, he has served as executive producer of four HBO series: the comedy-drama Entourage (2004–11), the period crime drama Boardwalk Empire (2010–14), and the comedy-dramas How to Make It in America (2010–2011) and Ballers (2015–present).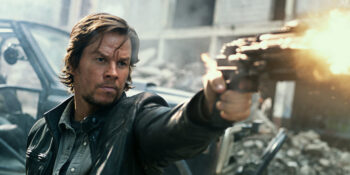 Wahlberg got his start in entertainment in the music industry. He was one of the founding members, at age 13, of the boy band "New Kids on the Block," which he quit after only a few months. He became the frontman for the group "Marky Mark and the Funky Bunch," releasing the albums Music for the People and You Gotta Believe. His music is mostly Hip Hop and Eurodance.
Since his initial incarceration prompted a spiritual turn-around, his walk with Jesus has been a continual re-committing daily to the Lord. For Wahlberg, the "journey to redemption" is a "process" of seeking Jesus.
"That's why I start my day everyday by getting on my hands and knees and starting a time of prayer and reading Scripture, and then I feel like I can go out there and conquer the world.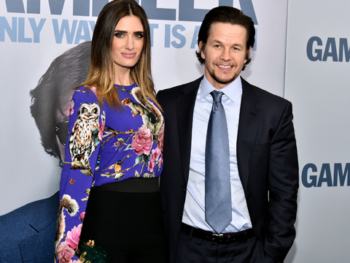 Initially, it was hard for him to break with the other bad boys of the block. He had to walk from his home to the train station everyday, and the guys didn't like the fact that he'd left them. "If I wasn't with them, I was against them" in their minds, he says. "So I had that to overcome, but I was committed to turning my life around."
Eventually he came to the revelation that he belonged to a huge community of believers and dedicated himself to the church, to the people and to God. He saw it as a beautiful thing to have such a support network. "You just have to believe and have faith and know that you can accomplish it and turn your life around."
For Wahlberg's wife, Rhea Durham, and their four kids, Sundays often revolve around the church schedule.
"If the kids are good, I'll have doughnuts for them at 6:30 in the morning," says Wahlberg during an interview with Parade, "and I'll say, 'You guys gotta let Mommy sleep in!' I'll go to church at 7:30 and everybody will be eating breakfast when I come home. Then we'll go to church again at 10:30, if things aren't too hectic. Or if one of the kids has a game we'll watch them play. It's a nice family day."
Faith, however, is more personal for the actor than just a weekly family tradition. In a 2010 interview with the Catholic Herald, the Lone Survivor star credited losing faith for his darkest times and finding it for his brightest. "Once I focused on my faith wonderful things started happening for me," he recalled.
"Faith is the most important part of my life," he said. "I don't try to push it on anybody and I don't try to hide it."
To help wayward young people, Mark co-founded with his brother, Jim, the Mark Wahlberg Youth Foundation in 2001. Their mission is to assist youth to ensure that no child is limited or prevented from attaining their lifetime goal or dream due to financial circumstances. Mark credits a large part of his success to the fact that he was fortunate enough to spend his free time in the positive and nurturing environment of the Boys and Girls club.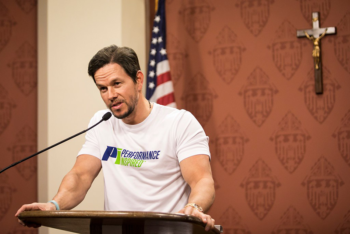 He knows that, even if he may wish to do so, he can't go back and change his past, so he continues to give back and do things for other people, especially to the less fortunate.
"As long as I do everything I can to do my best, and I feel pretty darn good about the effort, and sometimes I win and succeed and sometimes I don't, but I always felt like if I didn't do everything I could to prepare, then that's when I feel regret. That's when I feel disappointed in myself."
"There isn't anything you can't accomplish with hard work and the Lord behind you, WOW, if I can, trust me. I should be in a lot of places and it should not be here, so trust me, God is so good. Thank you Father."
Mark Wahlberg stars in the new film, Mile 22, with Ronda Rousey, Lauren Cohan and others.
If you want to know more about a personal relationship with God, go here
Zachary Catalano studies at the Lighthouse Christian Academy in Los Angeles area.