By Peter Wooding —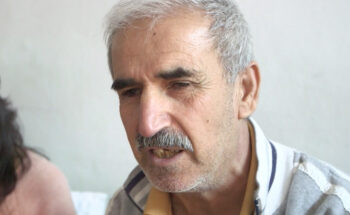 After Leading The Way's follow-up team distributed one of their solar-powered Navigator audio Bibles to a blind Iraqi refugee, they were astonished to discover that he used it to memorize 87 chapters from the Bible.
Every day in his modest home in Amman, Jordan, Fadhil* holds this device in his hand and soaks up the scriptures.
Several Leading The Way partners found it extremely humbling to visit Fadhil in his home while he quoted scripture after scripture:
"It was convicting, because for us we memorize a couple of verses. But he memorized chapters. He just meditates on scriptures day in and day out," said partner David Bottoms.
"When someone from the Leading The Way follow-up team provided him with a Navigator with the Bible and Dr. Youssef's messages, he was so overjoyed to receive it and every day he listens to the Word of God."
Partner Ron Hughes added: "Fadhil is someone who would seem unremarkable by the ways of the world. But God doesn't choose to reveal himself through the mighty and the powerful and the rich. He reveals Himself through the poor and the humble. Being in this small, modest home and being in the presence of greatness as God's word filled the room . . . was an amazing experience.
"The vision of Leading The Way through the Navigator is changing hearts, changing minds, and glorifying God on the ground in the Middle East in a part of the world that is starving for God's love."
Watch the remarkable video of Fadhil's story here.<https://uk.ltw.org/watch/global-work/blind-refugee-memorizes-87-chapters-of-the-bible>
Leading The Way has distributed more than 116,000 Navigators in 25 different languages, reaching some of the most remote regions of the world with God's Word. For each device distributed, roughly 10 people have the opportunity to hear the Gospel. Leading The Way's Founder and President Dr Michael Youssef reflects on the global impact of these solar-powered devices:
"From India to Indonesia and across Africa, there are many villages where people will sit around a tree and listen to these Navigators while they hang on a branch.  They will worship and bring their non-believing neighbors to sit with them. God is using these marvelous little pocket missionaries. I'm just so thrilled at what God is doing."
*Name changed for security purposes.
Leading The Way's television and radio programs are broadcast in 25 languages to audiences across six continents. The ministry uses field ministry teams to evangelize seekers, disciple new believers, and help the persecuted in places where it is dangerous to follow Christ. Michael Youssef, PhD, is the founder and president of Leading The Way. He has authored more than 30 books.