By Michael Ashcraft —
At all times, his parents' home was filled with fighting.
"I was an angry person that destroyed everything in my life," says Juan Pablo Cardo of Buenos Aires. "I never saw a pattern of people loving each other. My dad and my mom stayed together fighting a lot with each other. So I didn't want to be at home."
Juan Pablo found an outlet for his rage when he enrolled in a military academy at age 13.
Then he visited a church. For the first time in his life, he saw in the pastor, missionary Kim Pensinger, a model for Christian love. Kim and his wife, Josie, visibly demonstrated their love for one another. It seemed so foreign to him, so other-worldly, that he doubted what he was seeing.
Their love is not real. This is a fake kind of thing. Maybe they kill each other at home, he thought at the time.
But then he started to see that they really loved each other. And the people in church took care of each other. "I never saw that before. That started to break my thinking process. I wanted that."
Juan P
ablo quit his well-paid job to work at McDonald's, just because he would have more opportunity to share the Gospel.
"I started witnessing to everybody. I met Silvina," he says. "She was my boss — and still today." (Because they are now married.)
Silvina was smitten — not with Cupid's arrows, but with the pulsating love of Christ she saw in young Juan Pablo.
"I met Juan Pablo and he told me for the first time about Christ. Nobody had ever done that before." Silvina says. "I was impacted by his testimony. It touched my heart, and I said, 'I want what he has for me.'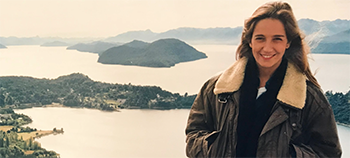 They were young and in love with Jesus, experiencing something of a Jesus Movement in Argentina. They were constantly involved with outreach.
"Every time I was witnessing to people I feel a fire in me. And every time I was able to bring somebody to church, that started to create a rush of joy and happiness," Juan Pablo says. "I said, 'This is so good. I wanna do that for my life.' To see people being helped and transformed like me, ooo, priceless. I don't want to do anything else in my life."
A year after meeting, they married. Because of the unpleasant acrimony he saw in his parents' home, Juan Pablo never dared to imagine hitting the milestone he just reached: his 25th anniversary.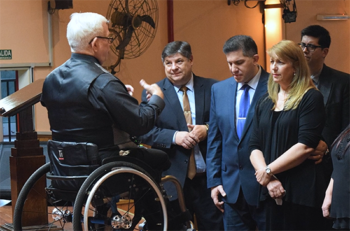 "It was something I never thought I could have in my life because when you're an angry person you believe that you always destroy everything and you will never be able to build up something that will last." Juan Pablo says. "Through the grace of God, to build a marriage, which is a miracle, and to have kids that don't hate me, it's a miracle"
Today, Juan Pablo, 47, and his wife, Silvina, pastor the Potter's House Church in Buenos Aires. His daughter, Eliana, 23, is a kindergarten teacher, and his son, Joel, 21, wants to teach English and be a pastor.
If you want to know more about a personal relationship with God, go here
Michael Ashcraft pastors the startup church, the Lighthouse of Van Nuys.