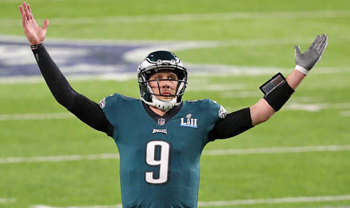 By Zachary Catalano —
Improbably, second string quarterback Nick Foles carried the Philadelphia Eagles to lofty heights with their first ever Super Bowl championship. But he may soar to even greater heights after he retires.
Foles, a born-again Christian, wants to be a first string pastor.
"I wanted to be a pastor in a high school. It's on my heart," Foles told the AP. "I took a leap of faith last year and signed up to take classes at seminary. I want to continue to learn and challenge my faith. It's a challenge because you are writing papers that are biblically correct. You want to impact people's hearts."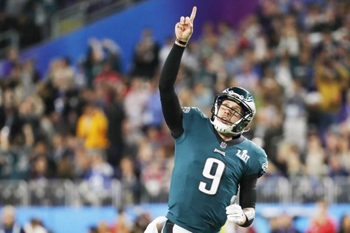 Foles — and the Eagles — were somewhat of the underdogs of this year's permutation of football glory. Not many thought they could out-pass Tom Brady or out-fox the Coach Bill Bellichick. After all, it's no fluke that Brady and the Patriots have won five Super Bowls.
And when first-string QB Carson Wentz tore his ACL in the playoffs, there were those who saw the Eagles falling to earth with no more wind in their feathers.
In stepped Foles. He humiliated the Vikings to clinch the NFC conference championship.
Then he squared off with Brady, the QB famous for making NFL players look like a gaggle of high schoolers. He faced him calmly.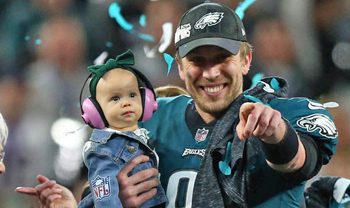 "I felt calm," he said in CBN. "We have such a great group of guys, such a great coaching staff. We're very blessed."
Then Foles executed an audacious pass reception for a TD. It was a trick play. But what silenced his detractors was the fact that Brady had just attempted basically the same play — and failed. The king of the gridiron bumbled the ball.
Did Foles intentionally mock Brady, succeeding where the Master had fallen?
Whatever the motive, Foles was named MVP of the game. He also earned bragging rights: He became the first QB to pass and receive touchdown passes in a Super Bowl.
He bested Brady 41-33 and bagged the bragging rights.
But he isn't bragging: "All glory to God," he said. "I wouldn't be out here without God, without Jesus in my life. I can tell you that first and foremost. I don't have the strength to come out here and play this game like that. That's an everyday walk. We have struggles as people. That's just been my rock, and my family."
Philadelphia may be rioting with frenzied excitement for their first Super Bowl, but in the Eagles' locker room, there are many players calmly praising God. A revival broke out with players meeting for Bible studies and getting baptized in the hotel pool before games. The Eagle's Facebook page published a video titled "The Locker Room's Binding Force" showing how the Christian faith of three players has helped the team play as a team.
"We lean on each other, we play for each other, that's what is so special about this team," Foles said in Faithwire. His coaches are impressed.
"Nick is the real deal — an authentic Christian who has a contagious love for Christ and for others," Eagles offensive coordinator Frank Reich told The Washington Post.
The accolades are raining down on Foles now, but his NFL career has passed through some ups and downs.
The 29-year-old, 6'6″ quarterback was first drafted by the Eagles in 2012 as a 3rd round pick. He was transferred to the St. Louis Rams in 2015, then to the Kansas City Chiefs in 2016. It was the fact that his career wasn't taking off that made him think about retirement. He wanted to work with high school kids. He sympathizes with their struggles. He's taking online classes with Liberty University to prepare for the eventual role.
Foles was inspired to continue playing football, despite a heretofore lackluster career, by a verse in the Bible: 2 Corinthians 12:9. "My grace is sufficient for you, for my power is made perfect in weakness."
Foles is married to Tori Moore, and the couple have a daughter, Lila James.
It's been a long journey to football greatness. "There were bumps in the road, but I was able to overcome them with the people around me, the people that known you and love you. There are many people in my life who have been there for me."
Now he wants to "be there" for a younger generation of struggling kids. The MVP on earth will be an MVP in heaven too.
If you want to know more about a personal relationship with God, go here
Zachary Catalano studies at the Lighthouse Christian Academy in West Los Angeles.