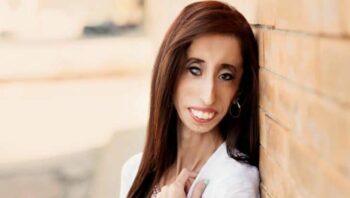 By Garrett Lahood —
Comments on an anonymously posted video called for her death.
Lizzie Velasquez was surreptitiously filmed in high school and uploaded to YouTube under the title "The Ugliest Woman in the World." By the time Lizzie saw it, it had ranked 4 million views.
"Why would her parents keep her?!" read one comment. "Kill it with fire. Just pick up a gun and end my life," said another. She had unwittingly become a freak show.
"I cried for many nights – as a teenager I thought my life was over," she told the BBC. "I couldn't bring myself to talk to anybody about it, I didn't tell any of my friends, I was just so shocked that it had happened."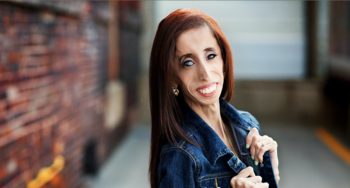 But Lizzie rebounded, thanks to her faith in God and loving parents.
Born in Austin, Texas, in 1989, Lizzie was afflicted with a very rare congenital disorder called Marfanoid–progeroid–lipodystrophy syndrome that causes an aged appearance and blocks weight gain. She was born prematurely, weighing only two pounds. Doctors predicted she would never crawl, walk or talk; they weren't optimistic about her chances to even survive.
But her parents Rita and Guadalupe Velásquez believed in God and provided her with a loving upbringing. She didn't even realize she had an unusual appearance until she went to kindergarten and saw other kids wince and retreat from her.
By the time she was a teenager, the bullying became unbearable.
"When I was a teenager I would look in the mirror and wish I could wash away my syndrome," she said. "I hated it because it caused so much pain in my life. Being a 13-year-old girl who is constantly picked on is unbearable."
In 2007, during her junior year, she clicked randomly on a video titled "The Ugliest Woman in the World," and to her horror discovered it was herself.
"I can easily say that it was one of the lowest points of my entire life," Lizzie told Premier Christianity. "At the time I had no clue how I could ever pick myself up again. There was no way at the time that I thought anything could ever get better because I just felt so crushed."
But with loving friends and family, she picked herself up and took on her critics.
"One of the first things my dad told me when this whole thing came about was that I needed to forgive other people, because that's what we believe; forgiveness is key," Lizzie said. "At first I thought, 'Are you crazy? There's no way I could ever forgive them! They're so mean!' But my eyes started opening to the fact that the people who were saying these awful things might not have a great life. And unfortunately, the only way they can make themselves feel better is to make other people feel bad, and I was the person they were making feel bad. It took a lot of prayer."
Instead of writhing in self-pity, Lizzie eventually gathered herself and decided to turn the tables.
"I realized I had power over my own life – to be positive." she said on Today. "I decided to be brave and join activities and make friends and learn how to be outgoing."
She worked on the school newspaper and even did cheerleading.
"The uniforms were really cute and every time I wore it around the school, I felt like a superhero," she said.
Lizzie went to Texas State University, where she got a degree in communications. She gave a TED talk in 2014 and started her own YouTube channel titled the same as the cyber-bullying video. She participated in a documentary about her life entitled "A Brave Heart: The Lizzie Velásquez Story" shown on the Lifetime channel. She became an inspiration to anyone feeling less than glamorous.
"Her experience of triumphing adversity and making it to the other side of a painful experience is universal," said Sara Hirsh Bordo, director of the documentary. "As soon as Lizzie became more open and honest – whether it was her TED talk or her YouTube videos – it was clear that people were thirsty for a story where somebody stands up and says I'm not going to be a victim, I'm going to make a change."
Lizzie doesn't blame God for her appearance. She has realized that she allows "a true beauty to shine through." Her videos sparkle with a heart-warming charm.
"God is the number one reason why I am here," she told Catholic News Agency. "He blessed me with the greatest blessing of my life, which is my syndrome. Besides my family and my friends, my faith is everything to me. When I have a bad day, I know the only thing I have to do is put it in God's hands, and I know he will help me overcome anything."
I've definitely realized that being born with such a rare condition was meant for a reason," she said. "I was meant to have this and I was blessed to have all of these struggles early on in life to not only make me stronger but to also teach me a lot of different life lessons that I'm now able to share with the world."
Today, Lizzie is a motivational speaker and a leader of the anti-cyber bullying movement. She has written two books: Be Beautiful, Be You (2012) and Dare to be Kind (2017). She helped work on a film about Megan Meier, who committed suicide at 13 after receiving rude comments based on a hoax.
Since April 2017, Lizzie stars in her own video series called "Unzipped" produced by Fullscreen, an entertainment company that helps YouTube creators.
"Yes, I am an inspiration and motivation for people, but I am human. It's OK to show your vulnerable side and people won't see you as weak," she said. "Awful things happened to me, but I am still here smiling and happy. I am so grateful that what I have been through has given me the opportunity to be a voice for so many people."
If you want to know more about a personal relationship with God, go here
Garrett Lahood studies at the Lighthouse Christian Academy in West Los Angeles.