By Mark Ellis —
President Donald Trump's cabinet members have been gathering weekly for prayer and Bible study sessions, which seems to infuriate media elites at the L.A. Times, who recently launched a venomous attack against the man leading the studies.
Ralph Drollinger, the founder of Capitol Ministries, initiated the Bible study during President Trump's transition to the White House and continues to lead the group.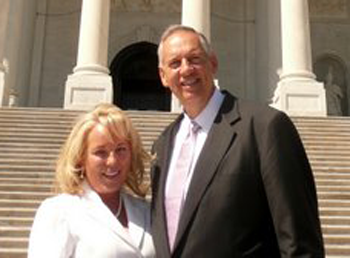 At 7'1", Drollinger once played under legendary Coach John Wooden at UCLA and was the first player to go to four NCAA Final-Four Tournaments. Wooden famously coached his players to exhibit "grace under pressure," something Drollinger may need in abundance to withstand the fiery darts of enraged secular critics.
Attendees at the study have included Vice President Pence; Secretaries Betsy DeVos, Ben Carson, Sonny Perdue, Rick Perry, Tom Price and Jeff Sessions; EPA Administrator Scott Pruitt and CIA Director Mike Pompeo.
They are some of the most powerful people in the U.S. government, something that agitates critics of the administration.
The writer of the L.A. Times story claimed to be in "shock" because Drollinger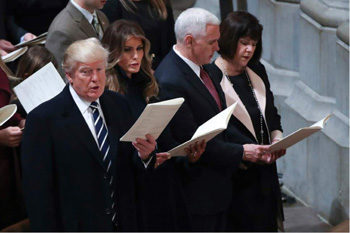 "once counseled a group of Sacramento lawmakers that female politicians with young children have no business serving in the Legislature. In fact, he called them sinners."
The Times dug up a lesson Drollinger taught to California lawmakers in 2004, which stated: "It is one thing for a mother to work out of her home while her children are in school. It is quite another matter to have children in the home and live away in Sacramento for four days a week. Whereas the former could be in keeping with the spirit of Proverbs 31, the latter is sinful."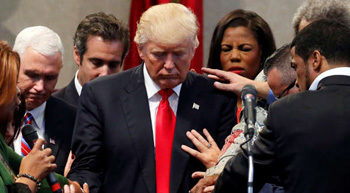 Members of the legislative women's caucus in California labeled such teachings as "misogynistic" at the time. Only liberal elites – blinded by their own ideology – could fail to see that extended absences from the home by either parent may have a deleterious impact on children.
The Times also leveled the charge that Drollinger is anti-Catholic, quoting Drollinger saying that Roman Catholicism "is one of the primary false religions in the world."
But further down in the Times' story, they reveal that in an interview with Drollinger in 2004 he expressed "misgivings" about his remarks about Roman Catholicism, "which he said were grounded in a centuries-old dispute about the relationship between church and Scripture."
The Times couldn't help but mention in the same article Vice-President Mike Pence's adherence to "the Billy Graham Rule", whereby he refuses to dine alone with any woman other than his wife. "Many women have been rankled by Pence's long-standing, faith-based policy of refusing to dine alone with any woman other than his wife, in a town where so much business happens at power lunches and dinners," the Times noted.
The Times story stated that Trump, "whose 24-member Cabinet includes just four women, has struggled to garner support from female voters." They fail to note the Clinton campaign's failure to connect with male voters.