By Charles Gardner —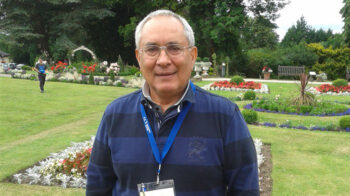 A Jewish follower of Jesus was having second thoughts about being ordained into the Church of England ministry when he got the surprise of his life.
A message in tongues was given during a home meeting that Ralph Goldenberg immediately recognized as Sudanese Arabic.
Having grown up in Sudan with the ability to speak several languages, he knew exactly what it meant. And it could not have been a clearer confirmation of his calling.
"Allah be'hebak – Inta min al dam beta Ibrahiem – Al Angiel fi fomak" translates as: "God loves you. You are from the blood of Abraham. The gospel is in your mouth."
The messenger, who didn't even realized he had spoken a known language, subsequently interpreted what he had said as: "You are to proclaim the gospel and bring my people to the kingdom."
As recorded in his autobiography, Find the Truth and Lock it in Your Heart (www.creativebooksolutions.com), that miraculous incident sparked the beginning of a very fruitful 20-year ministry for the Rev. Goldenberg, a former optometrist who has since been helping people to see spiritual truths.
Now 72 and retired, Ralph led churches in various parts of England, including the Jewish community of Edgware in north London, where he encountered opposition as well as interest.
At his first church, in his hometown of Bournemouth, he witnessed the miraculous healing of a missionary to China who had come home for back surgery, which was cancelled after prayer and anointing with oil.
The Holy Spirit, who had so empowered the first believers on the Day of Pentecost that they spoke in the languages of Jews from many nations who were staying in Jerusalem for the festival (also known as Shavuot), has clearly played an essential role in Ralph's ministry.
He recalls the time when, during a Pentecost Sunday service, "nearly everyone received the Holy Spirit and children spontaneously started praying and prophesying over the adults." His final Pentecost service turned into an impromptu full immersion baptism and lasted four hours.
Ralph was among 40 grandchildren of a Chief Rabbi sent to lead the Jewish community in Sudan, and both his grandparents told him to 'Find the truth and lock it in your heart' – hence the book's title.
So imagine his surprise when the vicar in charge of the church where he was married 50 years ago told him to "search for the truth and follow wherever it leads you".
In his youth, Ralph was sent to a Jewish school in Brighton, England – and seemed to meet Christians at every turn of his life from this point on. He had also, in fact, attended a Catholic school in Sudan.
He followed his father into optometry, meeting wife Helen at the City University in London where she was also an optometry student, and when he joined an optician's partnership, he too was a Christian!
Ralph and Helen had three lovely boys, a beautiful home and in time seemed to have everything, but still felt empty inside.
They joined the Round Table, made friends with a Christian couple and soon became connected with St Mary's Church in Ferndown.
"I am a Jew but I want to know about Jesus," Ralph told the surprised vicar. Helen meanwhile had already been persuaded that Jesus was knocking on the door of her life and was just waiting to be invited in (Revelation 3.20). Ralph was challenged to read the New Testament, which he found 'mind-blowing'.
But he needed to be sure that Jesus was divine. So he challenged God to send at least one person – perhaps even six – to say "Jesus is alive!"
He subsequently felt drawn to attend church with Helen, and was blown away when a new song was introduced which repeated the line 'Jesus is alive today' several times!
He never looked back, and it was 10 years later, while experiencing pre-ordination nerves, that he got the knockout confirmation of his calling in Sudanese Arabic!
Ralph has certainly found the truth his grandparents encouraged him to seek and is currently part of the leadership of the Church's Ministry among Jewish people (CMJ), an international body dedicated to the spiritual rebirth of Israel. — ASSIST News Service
If you would like to know more about a personal relationship with God, go here
Charles Gardner is a veteran Cape Town-born British journalist working on plans to launch a new UK national newspaper reporting and interpreting the news from a biblical perspective. With his South African forebears having had close links with the legendary devotional writer Andrew Murray, Charles is similarly determined to make an impact for Christ with his pen and has worked in the newspaper industry for more than 40 years. Part-Jewish, he is married to Linda, who takes the Christian message around many schools in the Yorkshire town of Doncaster. Charles is also author of Israel the Chosen (Amazon) and Peace in Jerusalem, available from olivepresspublisher.com. He has four children and nine grandchildren, and can be reached by phone on +44 (0) 1302 832987, or by e-mail at chazgardner@btinternet.com.