By Mark Ellis —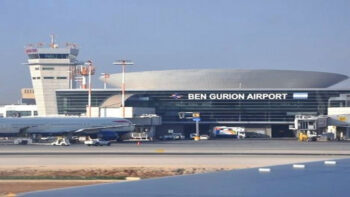 When American Mark Rosenblatt traveled to Israel and touched down at Ben Gurion Airport on April 5th, he turned on his cell phone and got a big surprise.
Rosenblatt received a text message from his cell phone carrier, Verizon, reading, "Welcome to Palestine," according to Jewish News Service (JNS).
"I did a double take," Rosenblatt told JNS. He traveled to Israel to visit his daughter, studying for her master's degree at Bar-Ilan University.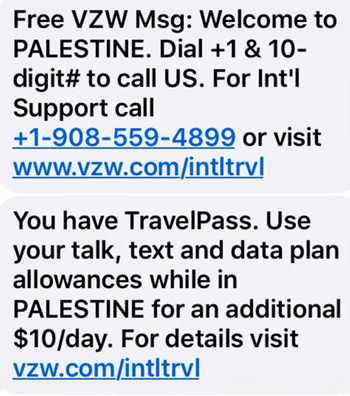 "I was shocked that an American company was falling into some BDS rhetoric," Rosenblatt, a high-tech consultant from New York, told JNS.
BDS stands for "Boycott, Divestment and Sanctions," a global campaign to pressure Israel to end their "occupation and colonization of Palestinian land and the Golan Heights, full equality for Arab-Palestinian citizens of Israel, and acknowledgement of the right of return of Palestinian refugees."
According to the most recent study of the wireless market by the research firm Strategy Analytics, Verizon was America's largest cell carrier at the end of 2016, according to JNS.
Verizon released a statement of explanation to JNS that seems questionable. Verizon said that because Ben Gurion Airport "is close to the Israeli border [with the West Bank] and there are cell sites and wireless signals from different providers on both sides. In general, customers living in or visiting border areas occasionally receive a wireless signal from a cross-border provider. When powering up or leaving airplane mode, the phone connects to the strongest signal available at the time."
Ben Gurion Airport is approximately six miles west of the border with the West Bank.
Verizon cited a similar situation in 2015 involving T-Mobile, in which a customer from Philadelphia was greeted with a "Welcome to Palestine" message when he turned on his cell phone in Israel.
Rosenblatt isn't buying their answer. "Most of Israel is close to a border," he told JNS. "Verizon should be able to handle this challenge, it has to happen all the time. I'd like to hear Verizon admit that it can do better and then do better."
Verizon did not specify to JNS why the company recognizes "Palestine" as a state when it has never been granted statehood.