By Mark Ellis —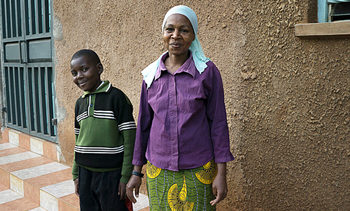 God began to draw the child's heart away from Islam even before he received his shoebox gift. As he learned that Jesus was more than a prophet, his mother became intrigued by what he shared, and a powerful love she had never known.
"We moved from my hometown to Meru and all the people in our neighborhood were Muslim, so we became Muslim," Mary told Samaritan's Purse. As a single mom, she moved there seeking a community that would help her and her son Clinton. After the move, a surprising series of events began to unfold.
In Kenya, Islam has been making gains along the coast and the northern border with Somalia, a Muslim stronghold. Meru, five hours north of Nairobi, is a major hub and common destination for transplanted Somalis.
At the nearby mosque Clinton attended with his mother, the instructors caned his legs when he mispronounced the Koran's Arabic verses.
One day he had enough and told his mother he didn't want to return to his Islamic classes.
"Where will you go?" she asked.
"I want to go to church," he replied. "The Lord will tell me where."
Mary was surprised by his response, unaware the God of the Bible had begun to draw her son.
By the Lord's providence, a few days later a friend invited Clinton to attend his church.
Clinton said yes—realizing this was an answer to the yearnings God had placed in his heart.
When Clinton attended the church, he received a shoebox from Operation Christmas Child filled with gifts transported from the U.S. to Kenya.
After Clinton received the gift, he continued to attend the church with his friend, while his mother went to the mosque. He got involved in a discipleship program developed by Samaritan's Purse for those who receive the shoeboxes.
He was surprised the teachers at the church where his friend invited him did not beat him.
In his classes, Clinton learned about a different Jesus than the one he was taught about by the imams. He learned that Jesus was much more than a prophet – that He is God's Son.
The power of the Word and the Spirit caused Clinton to trust Jesus as his Lord and Savior and he was born again.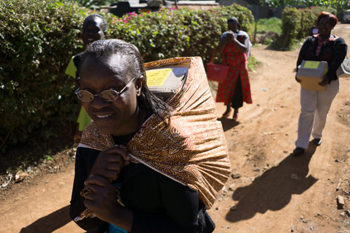 Each week he recounted to his mother what he learned at the classes. Slowly, God began to draw her heart as well.
Who are these people who didn't even know him who gave him a gift and are taking time to teach him? she wondered. Who is this Jesus who compelled them to do this?
Mary began to attend worship services at the church with her son last year. She began to learn about Jesus and the people who follow Him.
"I just had to meet these people who gave him this box," Mary told Samaritan's Purse. "And I had to find out who would send a box full of gifts from another continent and not know where it is going to show love to people they would never meet.
"This kind of love does not exist in Islam. I knew these must be God's people."
After a few weeks at the church she too surrendered her heart to Jesus as her Lord and Savior and was baptized.
"I decided since that time that I would serve the Lord," Mary said. "That love I received, I want to express that same love to other people."
If you want to know more about a personal relationship with God, go here
For more about Samaritan's Purse work in Kenya, go here