By Mark Ellis —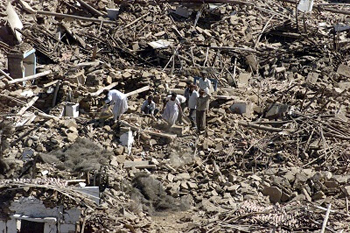 It was one of the deadliest earthquakes in India's history, with some villages near the epicenter disappearing completely. One pastor and his team were beginning a mission conference in a five-story hotel only a short distance away. He believes his heartfelt cry to Jesus brought protection for him and his team.
"Around 20,000 people died," Pastor John recalls of the Gujarat earthquake that hit at 8:46 in the morning on January 26, 2001. Pastor John ministers with Bibles4Mideast.
More than 170,000 were injured and a million left homeless. Many historical buildings were flattened by the 7.7 temblor.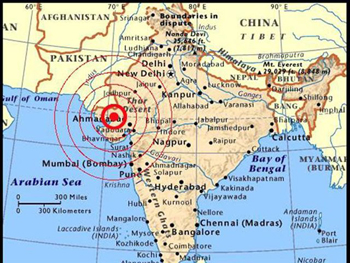 Some structures fell like playing cards, and property damage totaled nearly $8 billion.
"We were about to begin a three-day missionary conference in a hotel in Ghandhidham," he notes. "Thirty-five pastors had travelled from different parts of India to take part, and had rooms on several floors of the five-story hotel."
The conference was set to begin at 9 a.m. on the third floor. Pastor John arrived at the room at 8:30 with three others and began their preparations.
"Suddenly, we heard a terrible sound from the ground floor," he recalls. "We were then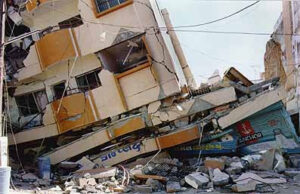 startled as the building began to shake violently, like a pendulum. The noise almost deafened us, and it was impossible to even move a step in any direction."
Pastor John was thrown 16 feet and landed on a raised platform. One wall of the conference room caved in, piercing through the ceiling of the floor below. Air conditioners and fans were tossed about like children's toys, and tables, chairs and cupboards turned upside down. Within seconds, the hall filled with sand, dust and smoke.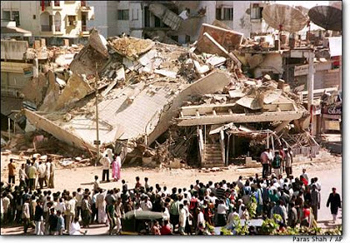 "I could not see my friends, or anything else around me. Before I could understand anything or even think of escape, I felt the whole building sink downward. I shouted to my friends and others who were in the hall to get out immediately."
His ears and nose were covered with sand and dust and he could barely breathe. Coughing violently, he headed for the exit door but found it wouldn't budge.
Then he cried out to his Savior, the Lord Jesus Christ.
"Jesus, you alone are our protector and you are able to save us! Save us Lord!"
He cried out the name of "JESUS" over and over again.
Then something remarkable happened. "I felt the presence of Jesus in the room, and felt His loving touch on my shoulder. Amazingly, I stopped coughing and was able to breathe again without trouble. Looking around, I could see my friends were still suffocating."
By God's infinite grace and mercy, every pastor from every floor in the hotel managed to get out safely. "While the hotel's walls and roof had collapsed, the floors had not given way. Sadly however, three hotel workers died. But in a hotel next to us, 24 were killed."
"Certainly it was because of our Lord's protection towards His children that we all escaped," he says.
When Pastor John ran outside, he heard screaming and encountered dead bodies of people and animals everywhere. "Most buildings around were completely destroyed. Those who had escaped were running for their lives."
Suddenly he thought about his wife and children and took off running for his house.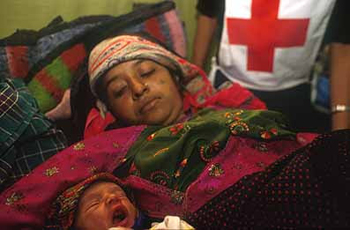 "When I saw my family standing outside of the house, I could do nothing but praise and thank God. Only our house windows and doors had been broken. While many nearby homes had been destroyed and scores of people lost their lives, miraculously all of our gospel team members survived."
Pastor John and his team began relief work immediately and managed to help many people in devastated buildings.
"One of our mission supporters, trapped beneath his collapsed home, felt the Lord protecting him under His wings. Relief workers finally found and rescued him three days later. Thirty-five hours after the quake, rescuers also found and rescued a small girl less than a year old trapped beneath a neighboring home."
Pastor John credits the Lord for protecting all the pastors and his family. "The righteous person may have many troubles, but the LORD delivers him from them all" (Psalm 34:19).
To learn more about Pastor John's work with Bibles4Mideast, go here