People living in cities and communities throughout the United States are ripe for an alternative solution to the current unrest in the nation and the answer does not lie within politics or culture, Every Man Ministries Pastor and President Kenny Luck recently said.
"At Every Man we believe that our nation is finally ready to address the chaos and dysfunction happening in our cities and communities. But the root of that chaos and dysfunction is not political, it's not ethnic, it's not even cultural," said Luck, whose ministry has helped thousands of men with their spiritual journeys for nearly two decades. "It is a spiritual breakdown of the family and the vacuum of spiritually and relationally healthy men leading those families."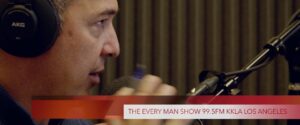 Los Angeles Radio Show Plans to Expand Into Chicago, Philadelphia Markets
The Every Man Show, which was launched as a radio program last year in Los Angeles (99.5 KKLA), has produced phenomenal results in reaching the city of 10 million people with the message of Jesus Christ specifically targeting men. Now, Every Man Ministries is seeking support to expand the show into the Philadelphia and Chicago markets.
"At Every Man we know that when a child comes to Christ, 3 percent of the family will follow," Luck said. "When a mom comes to Christ, 17 percent of the family will follow. But when a dad or father comes to Christ, 93 percent of the family will follow."
The act of men becoming believers in Jesus is an agent and catalyst for family health.
"For the last 16 years Every Man Ministries has been building a grassroots network of churches," Luck explained. "We've been building an ecosystem of resources and web platforms and curriculums to support and fuel a community-based revival of Christ-centered masculinity in the home."
EMM Match Grant Challenge 2017 from One Ten Pictures on Vimeo.
Expanding into Philadelphia and Chicago
Every Man Ministries seeks to secure broadcast time for the next 12 months in Philadelphia and Chicago. "We need to drive the grassroots, social media, and church campaigns to begin movements of transformation partnering with the churches of those major metro urban cities to reach and transform the hearts of men," Luck said.
Where do you come in?
"Here's where you come in. We are sponsoring over the next two weeks the Matching Grant Challenge for the Every Man Show. The good news is that we've already have had $100,000 come in of the $250,000 that we need to raise to get these two new time zones online," he said.
What do you do?
You go to EveryManMinistries.com/challenge and join this unprecedented, historic movement of God through the Holy Spirit that's going to transform the hearts of men, families, homes, communities, and cities from the inside out because we know that's the real solution.
Media contact: Alex Murashko – Email: alex@togetherla.net Phone: (949) 547-0907