By Dan Wooding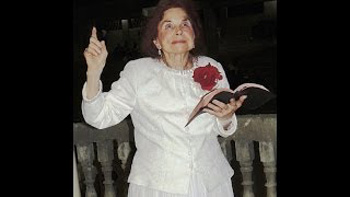 Verna Linzey, an extraordinary and multi-talented Christian leader, passed to her reward on November 11, due to heart failure. She was 97.
She leaves behind a tremendous legacy as the chief editor of the New Tyndale Version, as translator for the Modern English Version, contributing editor for The Military Bible and The Presidents' Bible, general editor of The Queen's Bible, the host of television programs, author of theological books, and writer of the hymn "O Blessed Jesus."
Her recording of "The Rose" was included on the soundtrack for "Iniquity," the movie in which she had a leading role. Verna was married to Navy Chaplain Stanford E. Linzey, Jr., and was also an honorary military chaplain with the Coalition of Spirit-Filled Churches, founding president of the Military Bible Association, and served as one of its volunteer military chaplains.
According to her son and road manager, Dr. James F. Linzey, his mother "had not retired from Bible translation work and crusade evangelism when she fell on July 1, 2016 in front of her home in Escondido, California."
After the fall she developed blood clots and poor blood circulation, leading to further complications until she passed away.
He told ANS that, at Westminster Seminary California, Verna received the National Bible Teacher of the Year Award in 2012, presented by Captain Ollie Mozon, senior chaplain of Camp Pendleton. The Assemblies of God presented Verna a Certificate of Appreciation for 50 years of active ministry as an Assembly of God minister in 2015.
"My mother became a minister with the Assemblies of God in 1945 though she began ministering as an evangelist with her brother Franklin Hall and other reputable church leaders before that. She ministered to an estimated crowd of 20,000 people in Haiti in 2014, was the keynote speaker for a national pastors conference in Singapore in 2014, and ministered at the historic Bonnie Brae Street house and the Azusa Revival site in 2013," he said.
"She has toured India, United Kingdom, North America, and the Far East. Her book, The Baptism with the Holy Spirit, served as a text book in 100 Bible colleges in the Far East. It was shown on Trinity Broadcasting Network by Paul Crouch, Sr. This work won her the 2006 'Best Non-Fiction of the Year' Award from the San Diego Christian Writer's Guild."
He went on to say that Verna attended Southwestern Bible School when P.C. Nelson was the president, later audited the entire Doctor of Ministry Program at Fuller Theological Seminary, and even later received a Doctor of Divinity degree at Kingsway Theological Seminary.
"She has been certified as an Assemblies of God Church Planter. Accolades include 'Leader of the Year' award was presented at the 2011 Leadership Summit at the Heritage Foundation," he added.
The Rev. Dr. Robert H. Schuller, founder of the Crystal Cathedral, said to Verna, "You really are a most remarkable person and tremendous inspiration to all of us. God has truly blessed you with not only wisdom and insight, but with a beautiful spirit as well."
Verna Linzey is listed in Who's Who in the World, Who's Who in America, Who's Who Among American Women, and 2000 Outstanding Intellectuals of the 21st Century.
She was the great grand-daughter of Jacob Mulford Hall, who served as a military chaplain in George Washington's Army, wife of a Navy chaplain, mother of three military chaplains, grandmother of a Navy chaplain, and mother of 10 children.  Verna was proclaimed "Mother of the Fleet" by the U.S. Navy.
Dr. Linzey said that his mother was a "precious, loving, strict, sacrificial, a tremendous success, and fiercely intelligent. She provided the inspiration for the success of many people. I am truly honored that she was my mother and that she allowed me to work for her. The works she has left behind will continue to bless the church for many years to come."
Besides her son, she leaves behind her daughters, which included Dr. Sharon (Linzey) Ackerman, who once took me on an extraordinary reporting trip to the Middle East.
Dr. Linzey is the chief editor of the Modern English Version, managing editor of the New Tyndale Version, general editor of The Military Bible, and general editor of The Presidents' Bible. He is a highly sought after speaker for conferences, seminars, and churches. He can be contacted by e-mail at [email protected]  or by phone at: (760) 855-3905.