By Chad Dou and Mark Ellis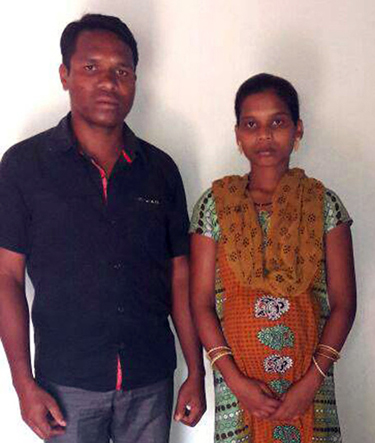 "Where is your Jesus?" the Hindu extremist growled, pressing the edge of a sword against Pastor Dinbanhu Sameli's neck. "Now, say, 'Jai Shri Ram (Victory to the god Ram)'."
Sameli, 30, and his pregnant wife, Meena, invited the two men inside after they showed up and asked for prayer on April 17. Once they stepped through the door, the pair turned vicious.
When questioned about the presence and protection of Jesus, Sameli responded: "We believe He is with us."
In addition to demanding praise for their Hindu god, the suspects ordered the couple to stomp on the Bible – an act which they refused.
"Why don't you believe in Ram?" the assailant shouted. After roughing the couple up and hurling threats and insults, the Hindu extremists doused the place with fuel and set fire, burning Bibles, materials and worship instruments.
Remarkably, the church building in the remote village Karanji was saved from significant damage.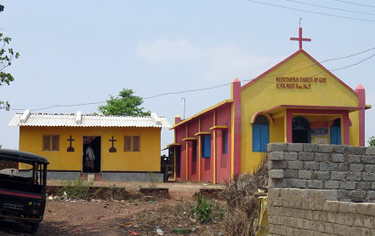 After the attack, the couple immediately filed a police report. A police superintendent said they have stepped up patrols in the area and were confident they would soon make arrests.
Pastor Sameli and his wife are no strangers to hate crimes. Last year, a gang from the militant Hindu group, Bajrang Dal, shouted "Jai Shri Ram!" in front of the church building and vandalized it painting the slogan on the front doors and walls, World Watch Monitor (WWM) reported.
The incident is part of a larger picture of Hindu extremism that has terrorized Christians, a minority in the population. Since the beginning of 2016, there have been 49 reported incidents of intimidation, violence and abuse against Christians, WWM reported. In central India, there were 116 incidents.
At the same time, the ruling Hindu nationalist party (Bharatiya Janata), has passed resolutions and taken actions hostile to religious freedom.
The Municipal Corporation of Raipur ordered the demolition of a Pentecostal church on the basis that it was built without permission. More than 1,000 Christians staged a sit-in the next day in solidarity with the church and the order was rescinded.
In 2014, the village of Belar passed a resolution banning all non-Hindu religious activities – a clear contradiction of Indian's constitution, which guarantees freedom of religion. Four months later, the High Court of Chhattisgarh annulled the resolution.
The latest hostility spotlights police incompetence, WWM reported. "Tokapal is a very small place, where everybody knows everybody," said Arun Pannalal, president of the Chhattisgarh Christian Forum. "The police are trying to downplay the incident and protect the accused."
"These are not isolated incidents, they are well-organized attacks with a pattern to harass and intimidate the vulnerable Christian community," Pannalal said. "This is part of a well-planned conspiracy, we condemn it and demand an impartial probe and speedy investigation in the case."
For more go to World Watch Monitor here
Chad Dou is a student at Lighthouse Christian Academy in Santa Monica, California