By Mark Ellis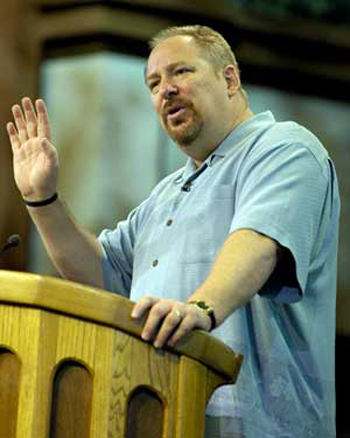 With tenderhearted affection, Pastor Rick Warren recently commissioned 110 pastors from 30 countries who are committed to his strategy for building healthy churches, transforming communities, and planting churches among unreached people groups worldwide.
The historic launch took place May 10-12 at Lakeside Mission in Rancho Capistrano, a sprawling church and retreat center only a few miles from Saddleback Church's main campus.
With candor and emotion, Warren spoke for nearly two hours on the evening of the 11th as he exhorted the pastors and their wives to take on the most significant mission of their lives.
"If you know something more significant than bringing people to Christ, building them up to maturity, training them for their ministry, and sending them out on their mission for the global glory of God, I'd like to know it," Warren declared.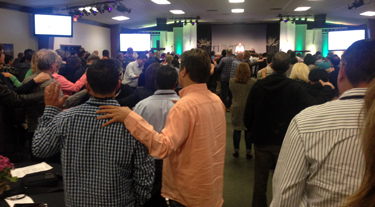 He also shared vulnerably about his own burnout after his first year in ministry – and how it changed the direction of Saddleback Church.
"I was just trying to build the church the old traditional way, build a program, work as hard as you can, run yourself into the ground," Warren recalled. "I was working 18-hour days; I had my office in my home and loving every minute of it, but I was burning out very quickly."
The church grew to an attendance of about 150 people. On the last Sunday of that first year he stood up to speak and something unexpected happened.
"I was so exhausted and so emotionally burned out I fainted while I was preaching," he recounted. "I just fell over. When I woke up I was embarrassed and I was dizzy and I went into a deep depression. I had destroyed my health. I was physically and emotionally exhausted."
He took his wife, Kay, and their children to Phoenix and dropped them with Kay's parents. "I went off and had my desert experience for a month. I saw no one," he said.
Like many other leaders in the pages of Scripture, he had a wilderness experience that brought critical revelation from above.
Alone with himself, Warren had to confront a battleground within his own mind. He thought the church's rapid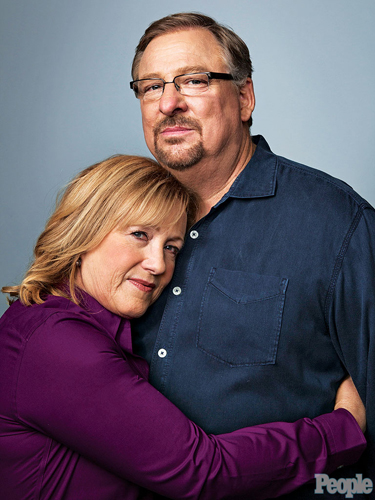 growth to 150 in only a year was a blessing he didn't merit.
I don't deserve this blessing, he thought. I have a difficult time being consistent with daily bible reading, much less being a pastor. I am not the man of God I ought to be.
He felt pressured to manage the growth. He realized if the church continued to expand at the same rate, it might grow to several thousand people in a few years. "That scared me to death," he said.
Then the still small voice of the Lord broke through. "God said to me three things in that desert experience that changed my life," he noted.
You're right, Rick, you don't deserve it. You will never deserve My blessing; it's all by My grace.
"Grace is the fact that God knows every dumb mistake you're going to make in ministry and he chose you," Warren told the pastors. "So it's all by God's grace."
"The second thing Jesus said to me was, Whose church is it?"
"It's your church, Lord," Rick answered. "You said, 'I will build my church.'"
Good answer, Rick. It is my church. I will build my church, the Lord impressed on his heart.
Then God said something that fundamentally changed his life. Rick, I want you to focus on building people and I will build the church.
"That's where Purpose Driven came from," he noted, "out of my depression and my burnout and my failure and my embarrassment."
In response to his desert experience with God, Warren began to pour through the Scripture.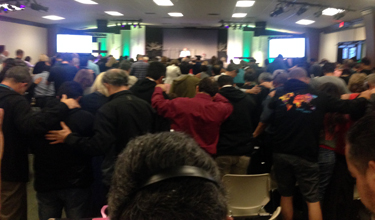 "They didn't teach me in Bible school or seminary how to build people. Purpose Driven, our movement, is not about building churches; it's about building people."
"When I made that understanding it was like a mountain of weight fell off my back. I imagined getting out of my seat and turning around and saying, 'Jesus, you are now the pastor of this church.'"
"Ultimately it would not be about my creativity, my ingenuity and giftedness or talent or energy to make this thing happen. Jesus said He will build the church. I said, 'Lord you got it,' and the rest is history."
Warren encouraged the pastors to focus on the health of their churches, not their size. "Focus on fruit that lasts. Don't worry about the size of your church. The size is up to God. I would rather see 10 churches of 100 than a church of 1000. All the fruit grows on the new branches, not on the trunk," he said.
"Don't worry about the building. This church was averaging over 6,000 in attendance before we built the first building. Church planters are so anxious to get a building. Don't worry about the building!
"Build your people before your steeple!"
"The only way to reach the remaining 3,000 tribes is to get our churches mature. When they are mature and healthy they will reproduce. The fruit of a Christian is another Christian. The fruit of a church is another church."
Knowing the men and women standing before him would face tough times, Warren said, "Don't get discouraged when you're in the winter. Don't get discouraged when it looks like nothing is growing. The rains will come again."
"Three years ago my son died, took his life from mental illness, and I went through the darkest season in my ministry. It was a tough season, but I'm coming out of it. I learned lessons in the dark. Never doubt in the dark what God has told you in the light. Hang on."
The pastors and their churches were commissioned as Global PEACE Churches, which model what it means to be committed to Warren's Purpose Driven philosophy and his PEACE Plan, and mentoring other churches to do the same.