By Mark Ellis —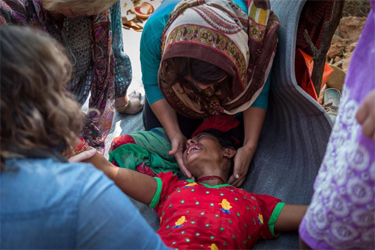 In Nepal, a volunteer team of Southern Baptists from Texas were visiting a small country church in response to their request for relief and assistance.
Caroline Anderson, a writer for IMB, was at their Saturday night service with the volunteer team when Anderson witnessed a woman who appeared to be demon possessed.
"I've met witchdoctors, interviewed shamans and sat cross-legged on a concrete floor with a woman who was previously possessed by a demon. I've even prayed over someone who I was told had an evil spirit," Anderson recounts.
"But, today, I saw a spirit stronger than one I've ever encountered."
During the worship, Anderson was taking notes, standing next to a woman named Prabhavathi,* when the Nepalese woman collapsed on the floor.
"She was still at first, seemingly unconscious," Anderson says.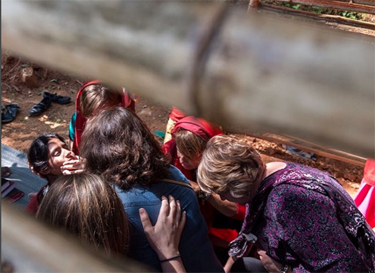 "Almost immediately, the Holy Spirit helped me discern it was an evil spirit. I dropped my Moleskine notebook and pen and dropped to my knees to pray in Jesus' name for the demon to come out of her."
The Lord brought to Anderson's mind the story in Luke when Jesus encountered Legion. There's more than one demon, Anderson thought.
As Anderson prayed, nothing seemed to happen. "For a moment, doubt crept in and I wondered why my prayers weren't working."
Suddenly Prabhavathi shrieked and thrashed about, writhing and wailing, and then went limp.
The other women on the volunteer team rushed over to join Anderson, laying hands on Prabhavathi and praying in the name of Jesus for the evil spirit to leave her. Felicity Martinez,* from Oklahoma, led the prayer.
Prabhavathi came out of the daze several times and looked horrified and full of despair.
The church's pastor, Aadesh Rana,* prayed and read Scripture over her. The youth pastor read Scripture over her and led the congregation in prayer. The entire congregation was encouraged to come around her in prayer.
Then, Prabhavathi sat upright, wailed and looked around. "Leave, or I'll eat you," she said. Finally, she calmed down.
"After an hour, the spirits relinquished their grip. When the demons left, the church service resumed."
Pastor Rana told the congregation, most of whom are new believers, it was God's power that rescued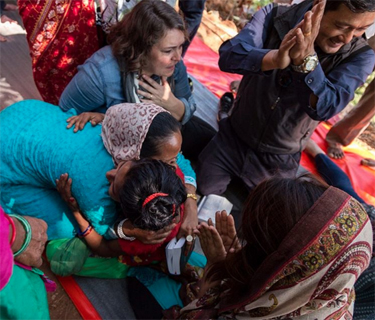 Prabhavathi. "I would like to thank God for everything," Pastor Rana told the congregation. "You can see the power of God by what happened. I would like to invite anyone to accept Christ. "
Then, he continued his sermon.
"Prabhavathi sat and listened to the sermon as if nothing had happened. After church, with one of her children on her hip, she placed flower garlands around the American women's necks."
The transformation in Prabhavathi was a strong witness to everyone in the congregation. God received the glory as a healer and deliverer and Prabhavathi was set free!
*name changed
For more about IMB Missions, go here
To know more about a personal relationship with God, go here