by Nirmala Carvalho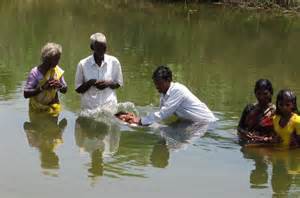 Rev Timothy Chaitanya Murmu, Pentecostal minister in the village of Manohar (Odisha), has been in prison for the past four days on false charges of forced conversion.
Police in Anandpur arrested the clergyman last Wednesday for baptising 16 tribal people. According to the indictment, he allegedly "forced" them to embrace Christianity in exchange for money.
"In September 2014, Rev Murmu celebrated the baptism of 16 tribal residents in the village of Baniajodi," Sajan George, president of the Global Council of Indian Christians (GCIC), told AsiaNews.
"The ceremony took place only after obtaining 16 notarized affidavits in which the catechumens said they had embraced Christianity of their own free will."
However, "the pastor did not present his certificate of baptism, which occurred in 1980," the GCIC leader noted. "Based on this legal technicality, required by the anti-conversion law, police arrested him."
A so-called "anti-conversion law" is in place in Odisha, which theoretically bans all conversions achieved by force or monetary exchange.
However, the authorities often used it to persecute Christians, on false allegations of forced conversions.
Please pray for the release of Pastor Murmu as well as this area of India to change its discriminatory laws. Also, please pray for the perpetrators, that they may be saved and see the love of Christ..–AsiaNews.it